News
The IAAF is saddened to hear the news of the death of Lenford Levy, director of the IAAF Regional Development Centre (RDC) in San Juan, Puerto Rico on Wednesday (29).
"It is a great loss to athletics," said NACAC president Victor Lopez.
"Levy has been a special friend and someone who has made a great contribution to track and field in the NACAC area."
Levy, a Jamaican national, has been involved in the development programmes organised by the IAAF and is known throughout the track and field world.
"It's a very sad moment for us and on behalf of NACAC and the IAAF, we extend condolences to his family," said Lopez.
Also expressing sadness on Levy's sudden death is Michael Bascombe, president of the Caribbean Sports Journalists' Association.
"Levy is a familiar face at track and field; he'll be greatly missed for his exuberance for excellence on and off the field," said Bascombe.
"CASJA has forged a unique relationship with the RDC, including the hosting of a regional seminar in San Juan in 2015. We join the athletics fraternity in extending condolences to the Levy family and friends."
One of the main objectives of the RDC is the training and development of coaches in the Caribbean and Levy has previously outlined a number of programmes at the RDC including a seminar for long and triple jumps, level two education courses for coaches and technical officials and a youth athletics seminar.
NACAC and IAAF
Monaco - With little more than a month to go until the 2014 World Athletics Gala, the IAAF has the pleasure in announcing the names of the three men and three women who are still in contention to become the 2014 World Athletes of the Year.
The finalists were selected after a two-week-long poll of the world athletics family*.
The Council of the International Athletics Foundation will select the male and female winners, with the announcement taking place live on stage during the 2014 World Athletics Gala in Monaco on Friday 21 November 2014.
The finalists for the World Athlete of the Year Award are (in alphabetical order):
Men
Mutaz Essa Barshim (QAT)
Dennis Kipruto Kimetto (KEN)
Renaud Lavillenie (FRA)
Women
Valerie Adams (NZL)
Genzebe Dibaba (ETH)
Dafne Schippers (NED)
*World athletics family: IAAF & IAF Council members; IAAF national member federations; IAAF Committee & Commission members; IAAF meeting directors; IAAF athlete ambassadors; athletes' representatives; top athletes; members of the international press; IAAF staff members and the IAAF's official partners.
SHAUNAE Miller has packed her bags and left the University of Georgia and coach George Cleare for the Pure Athletics Club and coach Lance Brauman.
By January, 2015, the Bahamas' top women's 400 metre runner has decided that she's had enough after spending the past year and-a-half under Cleare, the Bahamian assistant coach at the University of Georgia.
"Things just didn't work out with the coaching," said Miller, who declined to go into any further details of exactly what happened. "We had our differences of opinion, so we decided to part."
Cleare, who had the pleasure of working with Miller during her freshman indoor season before she turned pro during the outdoor season as she signed a lucrative deal with Adidas shoe company, declined to comment.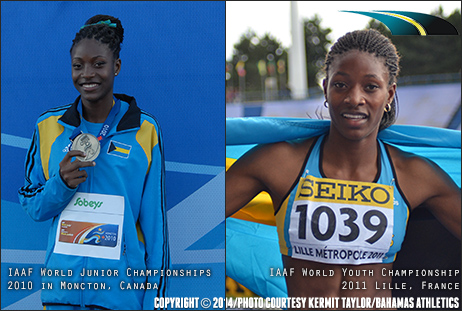 Miller, who has been hampered by injuries, she's looking forward to training under Brauman in the new year.
"I'm really excited about the change," she said. "I will have a lot of good training partners down there, so I'm really excited about it and I'm really looking forward to some great things."
Miller, a 20-year-old 2012 graduate of St Augustine's College before she enrolled at the University of Georgia, completing her final year as the winner of the Austin Sealy Award as the Most Outstanding Athlete at the Carifta Games, Miller went on to win the IAAF World Junior Championship (2010 in Moncton, Canada) and IAAF World Youth Championship (2011 in Lille, France) 400m champion.
She has ran a personal best of 50.70 seconds in 2013, but her season's best in 2014 was 51.58 that she recorded in the semifinal of the 20th Commonwealth Games in Glasgow, Scotland. She attributed her lacklustre performance to a series of injuries that she sustained. With the change in location, she's looking forward to a change in her performances.
"I'm looking forward to some great things. Hopefully I will have a healthy season," she said. "Then hopefully I can get my times down to where I need to be competitive on the senior level as I've been on the junior level."
The highlight for the 6-feet, one-inch Miller is the IAAF World Championships that will be held in Beijing, China in August, 2015. And she's hoping that she can duplicate her feat at the IAAF World Indoors in Sopot, Poland in March when she won her first global senior medal with a bronze in the 400m.
"I had a lot of injuries and I wasn't pleased with the times that I ran. So I'm just looking to bounce off those times and have a very good season next year," Miller said.
"I'm expecting a lot of great things next year. I'm going to be in a very good training camp and so I'm sure that coach Brauman will help me to achieve some of the goals that I didn't achieve this year."
Like she did at the University of Georgia, Miller intend to continue her studies either online or attending at the University of Central Florida (UCF) in Orlando, Florida.
Miller is the daughter of coach Shaun and May Miller, an executive in the Bahamas Association of Athletic Associations.
Barcelona, Doha and Eugene - Evaluation of candidates for 2019 IAAF World Championships
Monaco – The IAAF is delighted to confirm that three cities have officially applied to be candidates to host the 2019 IAAF World Championships.
Following Letters of Intent received earlier this year, formal Candidate Files have been submitted by the following IAAF Member Federations: Qatar, for the city of Doha, Spain, for the city of Barcelona, and United States of America, for the city of Eugene.
The IAAF Evaluation Commission (EVCOM) which will now carry out the evaluation of the bids has been formed and their programme decided.
The IAAF EVCOM for the 2019 IAAF WCH consists of:
IAAF Council Members:
- Sebastian Coe - IAAF Vice President, Chairman of the Evaluation Commission
- Abigail Hoffman - IAAF Council Member
- Katsuyuki Tanaka - IAAF Council Member
IAAF Office:
- Essar Gabriel - IAAF General Secretary
- Nick Davies - IAAF Deputy General Secretary & IAAF Communications
Director
- Paul Hardy - IAAF Competitions Director
Dentsu/AMS
- Junko Shiota/Ryo Wakabayashi – Dentsu
- Nigel Swinscoe - AMS
Programme
EVCOM visits will consist of two (2) working days in each city:
- Barcelona 14 - 15 October 2014
- Eugene 26 - 27 October 2014
- Doha 30 - 31 October 2014
Evaluation Format
The IAAF EVCOM will analyse the capabilities of each contender in a number of areas, based on careful study of the bidding documents and the on-site visits. Amongst the key areas that will be examined are:
- Vision and General Concept
- Competition
- Accommodation
- Transportation
- Congress & Council Meetings
- Broadcasting
- Media Operations
- Medical & Anti-Doping
- Ceremonies & Protocol
- Legacy
- Visa, Work Permit, Customs
- Security
- Sponsoring and Other Commercial Activities
- Ticketing
- Communication & Promotion
- Finance
The EVCOM visits will follow a standard agenda that has been sent by the IAAF to each Candidature Committee. Candidature Committees have been requested to organise a working meeting with the EVCOM members to go through each of the above themes, introducing them briefly and allowing for Q&A; as well as to organise Site Visit of the key venues for the WCH. In addition an official dinner or lunch and a press conference will be organised.
The Report of the EVCOM will be drafted from the Candidature File reviews and EVCOM visits. It will be reviewed and approved collectively by the EVCOM members to reflect the unanimous opinion of the EVCOM prior to submission to the IAAF Council on 7 November.
The host city for the IAAF World Championships 2019 will be decided in Monaco by IAAF Council on Tuesday 18 November 2014, following final presentations made by the three candidates.
Bahamas Athletics was pleased to catch up with Bahamian Olympian standout, Demetrius Pinder. Pinder who presently resides in Florida was in Nassau to conduct some promotional sponsorship work with The Bahamas Telecommunications Company Ltd.

Pinder says he is presently getting ready for his 2015 season and according to him, he is striving to "someday be that legend; that name, that one person from The Bahamas that set records and have a good history." If it is only for his present training partner, Pinder would achieve that goal. You see, Pinder moved to Sarasota not only for the expertise of his coach but also to train with none other than USA's Olympian and World Champion, LaShawn Merritt. "LaShawn is number one in the 400 meters and he knows a lot about the sport; I look up to him and want to be like him," says a humble Pinder. "Being able to train and compete with him, my idol is mind blowing – it was crazy," added Pinder.

Pinder himself is also a very talented and decorated athlete having won a gold medal and was a 400 meter finalist at the 2012 Olympic Games in London. As one would imagine, competing at the Olympics is a great accomplishment; medaling at those games is an even greater accomplishment. Speaking of his Olympic experience, Pinder says it was a dream come true; "it was just a blessing and I give God thanks every day because it allowed a lot of doors to be opened; we just need to do it again!"

As many might be aware, Pinder's gold medal unfortunately was later stolen and fortunately later recovered. "It (the experience of having the medal stolen) was very disheartening; I never thought I would see them. It was truly a blessing to have it returned to me. Now my medal has a lot more history than just winning," jokes a thankful Pinder.

So Pinder would continue his training to be one of the best in the 400m and one whose name persons would always remember; we do remember Pinder and the other members of the 4 x 400 meter relay team silver medal performance at the IAAF World Relays 2014 held here in Nassau earlier this year. Their performance kept spectators especially the Bahamian spectators off their feet! Competing in front of the home crowd is always a blessing. The Bahamas did a good job and coming out and hearing the crowd cheer for us was great according to Pinder. "The Olympics did not have anything on that," he quickly adds. Pinder says it was a pleasure for him to give 100% and show off the Bahamian colors.

So we would look for great things from Demetrius Pinder as he prepares for the near future. Pinder would be happy to be back since he was out with a hamstring injury he sustained at the 2013 Chris Brown invitational. Many athletes are disappointed about injuries however this humble and grateful gentleman, says he took the positive from his experience which he believe happened because God had something else planned for him. "I was able to sit on the side and rest up and think about the near future. I came back stronger and next year should be a good year for me." Pinder who opted not to participate in the Commonwealth Games to ensure of his readiness for the 2015 and beyond season, advised that he is feeling pretty good and thinks he has recovered 100% and is having good progress training for the 400 meters.

Before he left us, we asked Pinder what would be his advice to young athletes particularly those who look up to him. Pinder's advice is that the athletes should never give up because if things are not happening for you now, does not mean it would never happen. "Be patient and believe in yourself. Believe that God would see you through."

Bahamas Athletics wishes Demetrius Pinder all the best in his upcoming season.
"It was certainly an honor to be nominated for this prestigious award." Those were the sentiments of Mr. David Charlton after his induction into the Howard University Hall of Fame on September 26th, 2014. Charlton was nominated by his teammate Bernard Oliver as a result of Charlton's contribution while a student at the Historically Black University (HBU), Howard University; Charlton was a three-time All American and a three-time Most Outstanding Male Athlete. "I enjoyed my tenure and it made me the person I am today," says Charlton. "I am very grateful to my deceased father, my high school coach Errol Bodie and coach Bill Moultrie; those three men really made a difference in my life and I would never forget them."
Sharing with Charlton at the induction were his very proud and elated wife, Laura, daughters and other family members. Charlton was also supported by a past athlete who came to represent the other athletes who got their start under Charlton's tutelage; Mr. Alpheus Hawk Finlayson and his wife were also in attendance. "I am thankful to my biggest supporter my wife and also my dear mom (and my deceased dad) who made many sacrifices to ensure I had the finances while in college." Charlton said he is very thankful to all those in attendance especially his other family members, friends and supporters.
Charlton's induction was no "small feat" particularly as in his college days, they were not fortunate enough to have at their disposal, the amenities the athletes today enjoy. There were no synthetic tracks, weight rooms and other state of the art facilities; "We had to train in the cold weather as there were no indoor facilities nor high tech equipment. We got by on the very basic," adds Charlton. Despite it all, Charlton can boast of an excellent athletic career at while simultaneously making a great contribution to Howard University. As a matter of fact, due to the exceptional performance by Charlton and his team mates at the 1983 Penn Relay Championships, the university was awarded an upgraded synthetic track by the university's Board of Directors.
Charlton joins a great group of athletes being inducted into the HBU's class of 2014 Hall of Fame. This group also includes Olympian and World Championship Gold medalist, David Oliver and other professional athletes who played soccer and football and also athletes who have gone on to become professional men and women and making their contribution in the Caribbean and USA. "It was an honor to be on the stage with these high caliber persons," says a very proud and humble Charlton.
The advice from this Hall of Famer who started out from very humble beginnings is simple, "Anyone who puts their mind to something, can actually succeed in life." Charlton's vision is for everyone to come together and pool their resources in order that "the young men and women can have the same opportunity that I had."
Bahamas Athletics congratulates Dave Charlton on his Hall of Fame Induction and also for his contribution to sports in The Bahamas.
Page 1 of 152