News
We are all aware that fan support is very important to an athlete while competing and no matter the location of the meet, it is always good to see at least a few familiar faces in the crowd. Despite the enormous distance between The Bahamas and Sopot, Poland, our Bahamian athletes nonetheless could have looked into the crowd and see familiar faces; one familiar face enjoying the games would have been that of Bahamian Dennis Marshall. Marshall who usually covers our national teams when they travel, is also a former athlete who he states "in those days as an athlete, you were a multiple athlete; you did everything."
Marshall is very proud of our athlete's accomplishments at the games and is pleased with the progress thus far; to continue to do well, he suggests that our athletes simply need to "do their best and put their best foot forward and let's see where that gets us." At the time we spoke with Marshall, Shaunnae Miller and Chris Brown had advanced to the finals and as the many fans watching from the Bahamas, Marshall too is off the opinion that Shaunnae should do well. "Just making it to the finals is an accomplishment; she is a young and new athlete and quite good so we'll be satisfied with her best," says Marshall. With regards to Chris "the fireman" Brown, many spectators would have seen his excellent run that got him into the finals of the 400m; "Chris is good and his experience has brought him this far; we expect great things from Chris at this meet."
The eleven member team despite not all medaling, did an excellent job and should be proud of their performances; Marshall also supports this view and wishes the best for the team at the remainder of the competition. As The Bahamas is set to host the 2014 Inaugural World Relays, like most Bahamians, Marshall too is excited and looking forward to these games; his suggestion is that The Bahamas should "try to be good hosts; everyone is coming looking to win and as the host, we should not only concentrate on winning only but also concentrate on putting out a good product and a good game."
Great advice Marshall. Safe travels home and we would see you the IAAF 2014 Inaugural World Relays.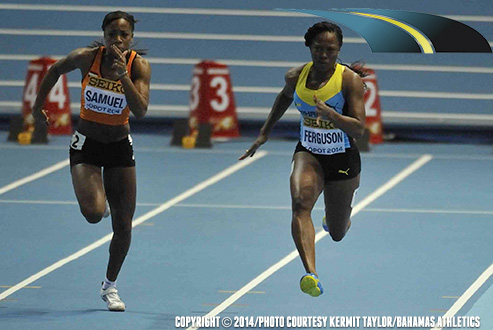 SOPOT, Poland: The Bahamas closed out competition at the IAAF 15th World Indoor Championships on Sunday as sprinter Sheniqua 'Q' Ferguson missed out on making the cut of eight into the final of the women's 60 metres.
Ferguon, 24, was the last of the Bahamas 11-member team to compete in the three-day meet at the Ergo Arena. Running out of the first of three heats in the semifinal, Ferguson clocked 7.25 seconds to duplicate her season;'s best in the first round on Saturday for fifth place. She ended up with a world ranking of 14th overall.
She missed the cut as defending champion Veronica Campbell-Brown of Jamaica took the final spot in 7.17 for third in the second heat. "I feel really good. I had a much better race than yesterday, so I'm really happy with my performance," said Ferguson, who duplicated the same time and classification in her first round on Saturday.
"I wanted to make it to the final, but I can't be mad about a season's best. I know what shape I'm in. I just have to now get ready for the outdoor season. So I'm pleased with my performance here."
Ferguson brought the curtain down on the three-day global championship for the Bahamas, a winner of two medals, thanks to the back-to-back bronze and silver feats by Shaunae Miller and Chris 'Fireman' Brown in the women and men's 400 metres respectively on Saturday.
Despite not making the final, Ferguson said she was just delighted to be among the best sprinters in the world. She said she intend to use the experience as a learning one and is now gearing up for the indoor season after taking a short break to recuperate.
Preamble
The competitive track and field season is well underway, and serves as an opportunity, particularly at the junior level, to carefully watch the advance of the "student-athlete".
Needless to say, it was an opportunity to track the high performers from the previous year, while focus or pay some attention to the up and coming rising stars.
Additionally, it was interesting to see the affects of movement within the system through an informal draft/recruitment system.
Given these factors, we were able to monitor the "Road to Carifta" where student-athletes, through week-end club competitions, and their various inter-house meets, prepare themselves to represent their respective schools at the BAISS or GSSSA meets, then the combined High School Nationals, culminating in the Carifta Trials.
Overview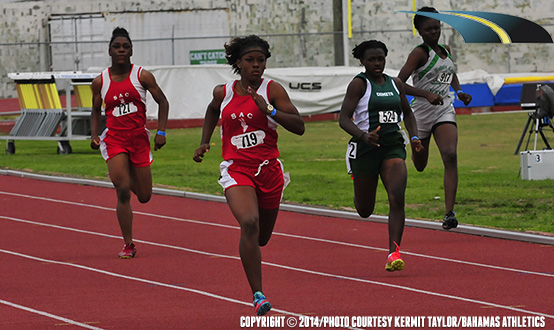 The excitement of the recently completed three day Bahamas Association of Independent Schools (BAISS) continues to grow.
There was a time when school events represented "big competition" with athletes showing school pride and their supporters present, cheering them on.
This writer was hopeful that, once the new stadium had been completed, we would reach a point where the competition would be held there, with masses of spectators, cheering for bragging rights.
None of this has materialized, but the spectator crowd over the period March 5-7, 2014, continued to grow, and there was a special rivalry between the red shirts of the SAC Red Machine, and the green shirts of the Comets of Queen's College....and now Temple Christian and Kingsway Schools.
This excitement was particularly evident on the final day of competition, Friday March 7, 2014.
It should be noted that, this level of competition and rivalry is very popular in the Caribbean, when sports rivalries go back as far as nearly a century....and alumni take time off to come and cheer for their" alma mater". This is what is truly referred to as school pride and developing a tradition.
It remains our hope, that this competitive rivalry will continue to develop.
The BAISS 2014 competition
All of the members of the BAISS had already completed their inter-house competitions and selection of competitors to represent their respective schools, in the combined championships referred to as BAISS.
Below find the thirteen schools that competed, and their corresponding final position, at the end of competition.
1. St Augustine's College 1,399.33 points
2. Queen's College 1,224 points
3. St. Anne's 442 points
4. St. John's College 413.17 points
5. Nassau Christian Academy 283 points
6. St. Andrews School 281.50 points
7. Temple Christian Schools 150.50 points
8. Jordan Prince William 150 points
9. Aquinas College 133 points
10. Charles W Saunders 75.50 points
11. Kingsway Academy 71 points
12. Bahamas Academy 48 points
13. Westminister College 38 points
Conclusion
The Road to Carifta 2014 continues with a meet of government schools (GSSSA) this week, then a major competition the BAAA/Scotia High School Nationals in two weeks time.
Again, it is our hope that we will reach the point where the combined competition will become a major attraction and opportunity for schools to compete in friendly but fierce competition, and that the new Thomas A. Robinson Stadium, will be filled, with colours, representing not only competitors but also supporters of our various schools.
This will go a long way towards developing a healthy rivalry as well as team and national pride.
Sopot, Poland: At age 35, Chris 'Fireman' Brown proved that he can still compete with his younger foes. On Saturday in the final of the men's 400 metres at the Ergo Arena, Brown struck for the silver medal, marking the fifth time in as many appearances that he came through to get the Bahamas flag raised ast the IAAF World Indoor Championships.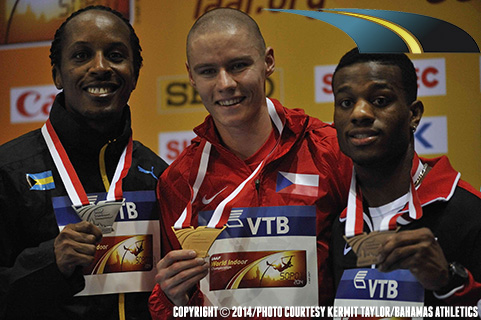 "God is good. All I can say is God is good," a jubilant Brown stated. "I know a lot of people counted me out, but whatever God has for you, no man can take. This just made me collection complete. I have a gold, silver and bronze.
"At age 35, I feel great and I just want to thank all of my family and friends for believing in me. I just wanted to come out here and represent the Bahamas as best as I could and I did that, so I'm really happy."
After relinquishinfg his lead to Europesn champion,Pavel Maslask from the Czech Republic, Brown held on for the silver in a personal best of 45.58 seconds to pocket a cheque of $20,000 from the IAAF. Maslak took the lead on the back stretch of the final lap on the 200 metre track and he stayed ahead of Brown to take the tape in a new national record of 45.24 for the gold and $40,000.
Brown, improving on hisd third plsce finish ast the 2010 indoor championships in Istanbul behind Nery Brenes of Crotia snd Bahamian Demetrius Pinder, held off American Kyle Clemons, who had to settle for the bronze for $10,000.
"To be honest, I wasn't going to run no one's race," Brown pointed out. "I went out there to run Chris Brown's race. I know it was up for grab. I did my part. I got out well. I executed well and I was just focused on me.
"He (Maslak) knew what he was capable of doing and I know what I was capable of doing. Hats go off to him and the guy from the US. They ran a superb race. Today, the Lord just had it in store for me to get one and I got one. Hopefully the Bahamas can be just as proud as I feel right now."
Brown said he's so excited about his performance that he doesn't know how to celebrate the feat. But he did indicate that he's looking forward to going back home in the Bahamas and enjoy it with the Bahamian people.
Sopot, Poland: At this stage in her career, quarter-miler Shaunae Miller said she was contended with whatever medal she get. In the women's 400 metres final on Saturdsy night, Miller picked up as bronze for her first medal in her debut at the IAAF World Indoor Championship.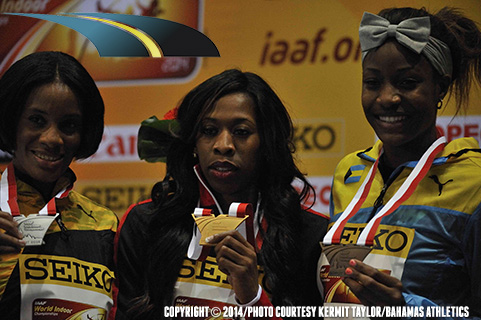 The 19-year-old made her fantastic transition from the junior to the senior ranks by adding the medal to the IAAF 2010 World Junior and 2011 World Youth gold she clinched before she wrapped her youthful experience last year as the winner of the prestigious Austin Sealy award winner as the most outstanding athlete at the 2013 Carifta Games in Nassau.
She did it in a time of 52.06 seconds for the bronze, earning a $10,000 payday from the IAAF. American Francena McCorory beat her outr for the gold in 51.12 and the $40,000 jackpot. And Jamaican Kaliese Spencer got the silver in a personal best of 51.54 for $20,000. "I feel pretty good about it. I was just glad that I got a chance to come here and compete for a medal," Miller stressed. "The competition was fierce, as expected, but I'm just glad that I was able to come and compete well for our country."
Running out of lane one, Miller used her height to come through the first lap in the lead just ahead of American Joanna Atkins in lane two. The two bumped slightly as they tried to take control of the race.
But that left the door wide open as McCorory surged from behind and into the lead on the back stretch. Miller chased her, but by the time she got to the final bend, Spencer caught and passed her.
Again Miller made a gallant effort to catch the pair, but as they stayed ahead of her, she made sure that Justyna Swiety didn't ride the momentum of her home crowd in Poland to pass her too. She did that as Swiety got left out of making the podium with her fourth in 52.20. "I'm just so happy that I won a medal," Miller said. "I really wanted the gold, but I will take the bronze. It's just my first world indoor, so I still some more opportunity to get it in the future. I will be back."
Miller's only regret was that her original coach and father, Shaun Miller, nor her mother, May Miller, or her current coach, George Cleare, were not here to watch her accomplish her feat. But she said she was satisfied that she got to talk to them before the race.
Sopot, Poland: Sprinter Warren Fraser will use his debut at the International Amateur Athletic Federation (IAAF) World Indoor Championships as a learning experience.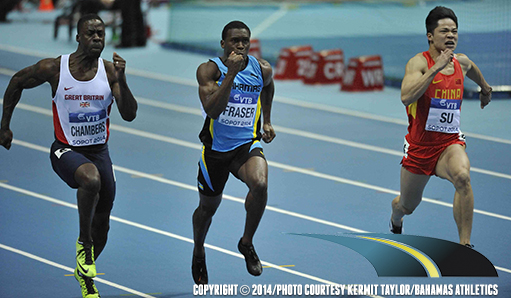 The 22-year-old graduate from Clemson got to the semifinal of the men's 60 metres, but just came up short of being one of the elite eight in the final.

On Saturday at the Ergo Arena, Fraser finished his trip here with a fifth place in the second of three heats. He ended up tied with Adam Harris for ninth place as they both missed out on getting into the final.

The eighth and final qualifier was Great Britain's Dwain Chambers, the fourth place finisher ahead of Fraser, in 6.58. Harris was third in the last and final heat.

"It was good, but not good enough to get into the final," said Fraser about his performance. "I stopped thinking. My eyes were closed for most of the way. I felt I was getting a lot of explosive, but coming into the last metre at the line,"I just leaned for it a little and lost a split second. Other than that, I'm happy with my performance. I could have easily been in the final, but I came up short. It was still a pretty good performance if you ask me."

That one mistake caused Fraser from getting into the final and earning a portion of the $2.5 million that the IAAF was giving out in cash prizes. Fraser, now based in Tallahassee, Florida, said he will use this experience to further his professional career.

"I remember when I was struggling once upon a time, but now on his worse day, I can come out and make it to the semifinal at the World Indoors.My mind set has basically changed," he said.

"My focus is getting to the top. I'm not just concerned about making it. I want to be able to compete for a title. hopefully I will get there. This is a good indication of where I'm at and what I need to work on."

No doubt, Fraser said he won't make the same mistake again.
Page 1 of 118