News
The Bahamas Half Marathon 2014 is now history and from all accounts, the event was very successful for the organizers, runners and spectators.
There were many winners in all the various age categories; Bahamas Athletics was pleased to catch up with one of the winners, Dr. Kathryn de Souza who was the top finisher in the Female 40 – 49 age category. Dr. de Souza expressed her love for participating in races here at home which included the convenience, knowing most of the participants and also the comradery. Like many physicians who enter the medical profession to help others, de Souza says that she also enjoys competing at home because "I can be there to help with medical problems as was needed to today."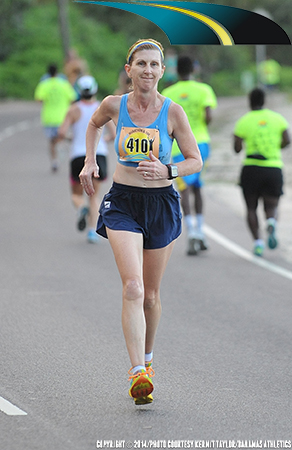 Dr. de Souza who is no stranger to running as she has been running since the age of twelve years, advised that for her 40th birthday, she made a commitment to run in a marathon which she says she has been running ever since. "I have ran eight marathons to date and I am fifty now," says a proud de Souza.
As one could imagine, one cannot simply wake up one morning and decide that they would participate in a marathon the next day; it takes great preparation mentally and physically. What is the doctor's advice for persons who are interested in running marathons? "You need to really watch what you eat and avoid fatty foods and take in carbs a few days before the race; even the morning off the race," advises de Souza. "You need to get some hydration from drinking liquids such as Gatorade and others during the race so you don't have a low sodium level which would make you "pass out" during the race," she added.
Being physically prepared is also important and according to de Souza, running a full or half marathon is very challenging. "If you are about to run a half marathon, you need to be able to run/walk at least ten miles before you attempt to run a half marathon." Dr. de Souza's advises those who cannot accomplish that to opt for the shorter race until they have managed that distance. "If you are a competitive runner, you need to make sure that you run some faster pace workouts so you get used to the pace you are going to run at the race."
Though there might not be as many marathon races as preferred, marathon runners nonetheless, are getting the opportunity from time to time to run at home. Dr. de Souza says she is very excited about the various events however there is nothing longer than 10 mile races "here and there." She feels more attention should be given to attracting more international runners and also, "we also need to start a proper training program because you just can't start training a month or so before the race as it is something you need to prepare for months in advance."
Dr. de Souza whose specialty is physical medicine and rehabilitation and sports medicine further suggests to those persons interested in competing in half or full marathons that they should also join running groups such as Road Masters or others so they can really be properly prepared.
Bahamas Athletics congratulates Dr. de Souza and all the other participants in The Bahamas Half Marathon 2014.
The second annual Bahamas Road Masters Half Marathon is now over and according to Mr. Charles Johnson President of the organizing club, Bahamas Road Masters, the event was a great success. This event was not only a success due to its smooth operation the day of the event but also, it was a success due to the growth of the number of participants. According to Johnson, last year's race had about 400 participants and this year's race saw that number grow to 600; all goes well, it is the organization's goal to see those numbers increase to 1000 participants next year!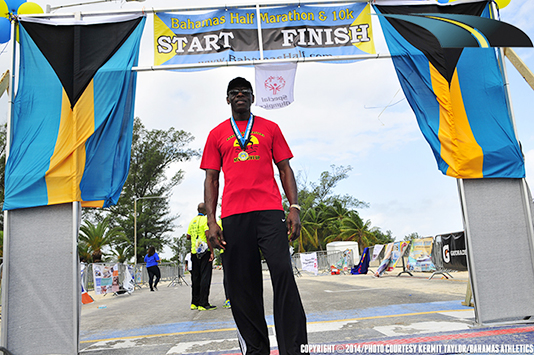 As in any venture, the success depends on the kind donations of sponsors; Road Masters too require the assistance of sponsors. Johnson says that they do have a number of sponsors whom they are very thankful for however their goal is to land a major sponsor. "We do have a number of sponsorships more so with products than with cash; we need someone who is going to sponsor about $15,000.00 - $20,000.00 in cash along with the current sponsors.
With the adequate sponsorships, Road Masters would continue to see popularity and growth in the club. It seems the marathon is not only popular with local runners but it is also popular with international runners. The race attracted some 70 – 80 international runners, two of whom were elite runners who came and ran extremely well. Johnson said International runners came from all over the world including Europe, USA and Canada; "Marathon runners once there is a good race, would go anywhere (to participate)," says a proud Johnson. "Bahamians are now travelling far and wide to run and international runners are doing the same thing," he added.
As with any sport, Bahamians can be seen competing all over the world, it seems marathon runners are no different. According to Johnson, a group of 18 Bahamian runners participated recently in the US Marine Corps Marathon held in Washington, a separate group participated in a race in Toronto and a group also participated in the popular New York City Marathon. Johnson was proud to announce that he too would also be competing in an international marathon which is being held February 2015 in Tokyo, Japan.
So the Half Marathon sponsored by Bahamas Road Masters is now history and the club would now review its books to determine the donations that would be given to a charitable organization which is selected each year. This year's selection would be made to The Special Olympics and due to the success of the race, a substantial donation would be made to the Special Olympics. Johnson was proud to boast that his club is driven by helping the community; "We are pleased to do this in our community and we intend to continue." Great job Bahamas Road Masters.
AMERICANS Mitch Guirard and Maria Pawkowitch were the overall winners of the Road Masters second annual Bahamas Half Marathon.
The 13.1 mile race was held on Sunday morning in conjunction with a 10 kilomtre race that started and finished at Arawak Cay.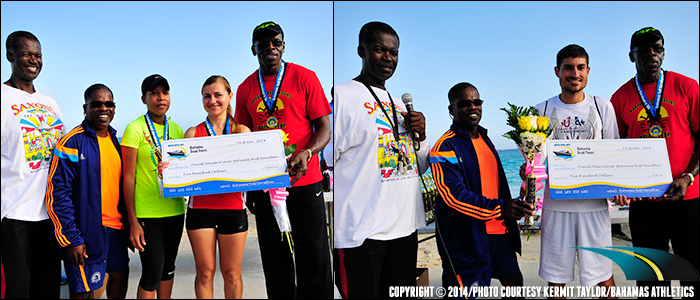 Girard, back for his second appearance in the Bahamas, added to his collection of the Bahamas Marathon's 10K race in 2011 by taking the men's title of the 10K race one hour, 17 minutes and 26 seconds.
The 28-year-old resident of West Palm Beach, Florida easily won the title over Grand Bahamian Delroy Booth, the first Bahamian male finisher in 1:24.16. "It was a very good race, nice weather," Girard said. "I was very pleased with the performance."
Although she's been here before during a visit, this was Pawkowitch's first appearance for competition. The 31-year-old resident of New York, took the female title in 1:34.07.
However, she was followed closely by Bahamian middle distance runner Crystal Strachan, who was back home for a two-month training in Africa. Strachan, 28, chased Pawkowitch, but admitted that she didn't have the stamina to catch her. She ended up in second place in 1:34.20.
"It was exhausting," Pawkowitch said. "The weather was good, but I'm just coming off an injury, so I was very pleased. I knew she (Strachan) was behind me, so I had to hold on for the win."
In the 10K race, Bahamian residents Will Fairbairn and Melina Andorra were rhe top competitors. Fairbairn, 35, took the tape in 41.30 for the men's title, while Andorra, just 13, emerged as the female winner in 53.37. The No Limit Track Club, comprising of Dominique McPhee, Cadeau Augustin and Ronald Kemo, took the team title in 1:23.26.
One of the event organizers, Shavonne Blades, admitted that the turnout far exceeded their expectations with the entrants doubling last year. She noted that they had more than 600 competitors, compared to the 300-plus for the initial year.The Bahamas Half Marathon and 10K Race, according to Blades, will is fast becoming the race of choice for both Bahamians and visitors alike. She indicated tat they hope to attract even more foreign competitors when they start their planning in January. ​
There was also a strong presence by the Bahamas Special Olympic athletes and there was some participation from the People's Republic of China, who are working on the Bah Mar Project.
The Roadrunners Track and Field Club will be holding its 15th Annual Presentation and Awards Banquet on Saturday, 29th November at the Crown Ballroom, Beach Towers, Atlantis, Paradise Island. This exciting and most anticipated event will begin at 7 p.m. under the theme "Dominate the Impossible: Conquering the Unknown, Discovering Strength."

This annual event highlights the athletic and academic accomplishments of the Roadrunners athletes during the past year. Special guests will include the Minister of Youth, Sports, and Culture, Honorable Dr Daniel Johnson; Director of Sports, Mr Timothy Munnings; former Minister of Youth, Sports and Culture & former Minister of Education, Mr. Desmond Bannister; and President of the BAAAs, Mr. Mike Sands. Guest speaker for the event will be Mr. Paul Moss, President of Dominion Management Services Limited.

Some of the accomplishments this past season include Honor Roll students, BJC and BGCSE successes, Bahamas Primary School Student of the Year nominees, Most Outstanding Athletes at the Bahamas Primary School National Meet, gold medal performances at the Archdiocesan Schools Track meet and AAU Club Championships, in Orlando, Florida, outstanding performances at BAISS, GSSSA, and High School Nationals, and a Carifta team member.

Our Roadrunners athletes are encouraged to maintain productive and wholesome lifestyles through organized, structured, and disciplined participation in track and field. As such, the Executives look forward to ensuring a successful and rewarding event each year to celebrate their accomplishments.

​

For tickets and ​information, please contact Head Coach Dexter Bodie at 434-7706 or email This e-mail address is being protected from spambots. You need JavaScript enabled to view it or This e-mail address is being protected from spambots. You need JavaScript enabled to view it .​
Monaco - France's Renaud Lavillenie and New Zealand's Valerie Adams were named the male and female World Athletes of the Year for 2014.

The pair received their trophies at this evening's IAAF World Athletics Gala held at the Chapiteau de Fontvieille.

The awards were hosted by International Athletics Foundation (IAF) Honorary President HSH Prince Albert II of Monaco and IAF & IAAF President Lamine Diack, who presented the trophies to the male and female winners.

It was the first time in the history of the awards that field event athletes had won both accolades and was also the first time that a male pole vaulter or a female thrower had won the World Athlete of the Year award.

Lavillenie, 28, had an almost perfect season which included setting a pole vault world record of 6.16m in the Ukrainian city of Donetsk.

The Frenchman won 21 of his 22 competitions in 2014, a series which included victories in the Diamond Race as well as at the European Championships and IAAF Continental Cup.

"This season couldn't have been better. This is really the dream season for me. I can only enjoy this and be very grateful to the whole athletics family," reflected Lavillenie.

"I think the world record contributed to the award, but I won other competitions too. I wasn't as good as Valerie, I lost one competition, but 21 out of 22 is not too bad in an event which is quite unpredictable," he joked.

Adams, 30, may have thrown farther in previous seasons than she did in 2014, but the Olympic champion added a ninth senior global title to her collection when she successfully defended her world indoor crown in Sopot and triumphed at the Commonwealth Games.

She was the only athlete in the world to win at all seven IAAF Diamond League fixtures in any discipline and was a clear winner of the women's shot put Diamond Race.

"This is the icing on the cake for 2014. It's been a year that's been physically challenging but I'm proud to be here for New Zealand and Oceania," commented Adams.

"There's been a lot of pain but I love what I do, I love competing. I'm mentally strong and I've a high pain threshold so that makes it easier," she added, with her delight evident for all to see.

Other awards

IAAF DISTINGUISHED CAREER AWARD

Virgilijus Alekna (LTU)

Alekna, now 42, has had a stellar career and his major achievements include gold medals at the 2000 and 2004 Olympic Games, 2003 and 2005 IAAF World Championships.

He was also the 2006 European champion and has another five medals from major international championships. His international championship career stretched over 21 seasons, starting at the 1994 European Championships and, 20 years later, he competed in the 2014 European Championships this summer.

He threw a national record of 73.88m in 2000 and currently lies second on the world all-time list for his discipline.

IAAF RISING STAR AWARD

Wilhem Belocian (FRA) & Morgan Lake (GBR)

Belocian, 19, won the 110m hurdles at the IAAF World Junior Championships this summer in a world junior record time of 12.99, making his own mark as the first junior to run under 13 seconds over the barriers. His global victory added to his win at the 2013 European Junior Championships.

Lake, 17, achieved a unique double at the IAAF World Junior Championships in the US city of Eugene, winning both the heptathlon and the high jump and while still a youth as well. Her winning heptathlon total of 6148 points was a world youth best.

IAAF COACHING ACHIEVEMENT AWARD

Tom Tellez (USA)

Tellez is best known for guiding Carl Lewis to nine Olympic titles. Between 1984 and 1996, all but one of the US athletes who won gold medals in sprinting events at the Olympic Games were coached by Tellez.

His group included the likes of 1988 Olympic 200m champion Joe DeLoach, former 100m world record-holder Leroy Burrell, 1992 Olympic 200m champion Mike Marsh, 1984 Olympic 200m silver medallist Kirk Baptiste and 1996 Olympic bronze medallist Frank Rutherford.

IAAF WOMEN IN ATHLETICS AWARD

Evie Garrett Dennis (USA)

Dennis was instrumental in convening the first ever convention of The Athletics Congress (now USA Track & Field). Eight years later, in 1988, she became the first woman to act as the chef de mission for the US Olympic team.

She went on to serve as the vice president of the US Olympic Committee, again becoming the first woman to do so, and chaired the USOC's women's committee and diversity committee. She has been a staunch advocate and spokesperson for Title IX, which ensures equal access to sports for young women.

IAAF WORLD JOURNALIST AWARD

Marc Ventouillac (FRA)

Ventouillac is head of athletics at renowned French sports newspaper l'Equipe and since 2003 he has been a member of the IAAF Press Commission. He is a recipient of the Prix Robert-Parenté, awarded by a group of international French athletics journalists, and in 2014 he became a distinguished member of the AIPS Executive Committee, Europe and president of the AIPS Athletics Commission.

MASTERS' MALE ATHLETE OF THE YEAR

Guido Muller (GER)

Having started out in athletics at the age of 11, Muller is still going strong 64 years later. Since turning 45 in 1983, Muller has gained 126 national masters titles, 82 at the European level and 36 at the World Masters Championships. He also holds 17 world masters records across various age groups from M45 to M75, four of which were set this year.

MASTERS' FEMALE ATHLETE OF THE YEAR

Lavinia Petrie (AUS)

Since turning 70, Petrie has been on a record-breaking run, setting multiple world records in her age group across middle and long distances. At the start of 2014, Petrie set world W70 records over 3000m and 10,000m in the same day. During the same competition, she broke the W70 world best in the half marathon. Two months later, she took a 46-second chunk off her own W70 10,000m world best.

IAAF HALL OF FAME – 2014 INDUCTEES

A dozen athletics legends, the 'class of 2014', were inducted into the IAAF Hall of Fame.

Valeriy Brumel

Glenn Davis

Heike Drechsler

Hicham El Guerrouj

Marita Koch

Robert Korzeniowski

Janis Lusis

Bob Mathias

Wilma Rudolph

Shirley Strickland de la Hunty

Lasse Viren

Cornelius Warmerdam
Monaco - The IAAF Council, chaired by President Lamine Diack, met in the Fairmont Hotel, Monaco, for the second of three days of its autumn session on Wednesday.

The principal decisions are listed below.

The Council approved the Entry Standards for the IAAF World Championships, Beijing 2015.

The key element of the new system is that the IAAF shall establish the ideal number of athletes (and relay teams) to start in each event of the championships and shall ensure that such ideal numbers are met through a qualification system which, essentially, combines entry standards (only one standard) and invitations based on rankings.

As in the past, there are still some special qualification opportunities and it will still be possible for member federations without any qualified athletes to be represented with one unqualified athlete (subject to certain conditions).

Full details of the Entry Standards can be seen here.

Rio 2016 Olympic Games

For the first time at an Olympic Games since 1988, the Rio 2016 Olympic Games will feature finals during the morning sessions of the athletics programme.

The full detailed competition programme will be released shortly but the IAAF Council approved the decision to have finals in the morning.

There will be 13 finals in the mornings: the five road events (three race walks and two marathons) and also eight events in the stadium. Out of those eight in-stadia events, there will be an even split between genders as well as between track and field events.

The Council approved the Distance Medley Relay replacing the 4x1500m relay at the 2015 IAAF World Relays.

The following Entry Standards were also approved for the 2015 IAAF World Relays.

- Women: 4 x 100m: 44.00

4 x 400m: 3:33.50

- Men: 4 x 100m: 39.00

4 x 400m: 3:04.10

Application for Membership - South Sudan

The IAAF has received and reviewed an application for IAAF Membership from the South Sudan Athletics Federation.

The application was judged to meet the requirements, as set out in Article 4.3 of the Constitution, and provisional IAAF Membership was granted to the South Sudan Athletics Federation, with full rights and obligations.

IAAF World Race Walking Team Championships - new name

Based on the Council's approval during the July 2014 meeting, the Council confirmed that the new name of the competition formerly known as the IAAF World Race Walking Cup will now be the IAAF World Race Walking Team Championships.

Change of IAAF Office

vThe Council approved the new location in Monaco of the IAAF Office. From early next year the IAAF will be based at: 6 & 8 quai Antoine Ier.

Doping Control Programme in 2014 (at the end of October 2014)

In-Competition testing: total urine tests: 1597, including 668 EPO analyses

Out-of-Competition testing: total urine tests: 1721, including 634 EPO analyses Pre-Competition testing: total 612 blood tests for ABP purposes

Track Facilities

29 tracks that have been certified since 4 July 2014, bringing the current total to 117 tracks holding a Class 1 Certificate and 547 a Class 2 Certificate.
Page 1 of 155