News
It's a wrap for the IAAF 2014 World Championships held at the University of Oregon, Eugene, Oregon. For the Bahamas, our last shot for a medal would be the men's 4X400 relays. The line up would be 1st Henri, 2nd Cartwright, 3rd Gardiner and 4th Rolle.
Our guys gave it their best effort but it was not to be. After it was all said and done, The Bahamas would finish 6th over all with a time of 3:08.08. So it would not be Deja Vu as in the 2012 Olympics when the men's 4 x 400m team came home with gold at the last opportunity for them to medal. World Junior's Team Bahamas gave it their best effort and should be commended as they were among the "best of the best." Our men's 4 x 400m relay team should be very proud particularly for making it to the finals. Job well done guys!
Team Bahamas will depart for Eugene tomorrow by bus for Portland and then on their way to Nassau. Team Bahamas is expected to arrive Tuesday around midday.
Bahamas Athletics thank you our followers for allowing us the opportunity to bring you the results of the IAAF World Junior Championships 2014 live from Eugene, Oregon.
Team Bahamas ran in heat 2 lane 6, they would finish with a new National Record time of 3:07.03 seconds! Great job guys. The team was made up of Henri Delauze, Kinard Rolle, Janeko Cartwright and Steven Gardiner. Team Bahamas ran a very strong race and looks great going into the finals tomorrow, the final day of the championships. Bahamas Athletes wishes our men's relay team all the best.

Devynne Charlton had a good showing at World Junior Championships. She came up just short in the 100mh Semifinals with a time of 13.36 in Heat 3. Despite not making the finals she did get a new personal best in the opening heat with 13.56 showing that she is improving.

The 4x100m Women's had a disappointing ending to their World Juniors as they got disqualified in the Finals for the event.

Also in Eugene, Oregon attending the World Junior Championships is Educator, National Coach, Club Monica President and 2nd Vice President of the North America, Central America and Caribbean Track and Field Coaches Association (NACAC), Dianne Woodside. Woodside who has a number of Club Monica's athletes competing at World Juniors is off the opinion that Team Bahamas is performing tremendously well. Woodside expressed to us that she would like to see the Bahamian Government develop a national program for the development of sports because at the moment, athletes are only being trained through the club system but a dedicated program is needed if our athletes are going to compete with talented athletes from Jamaica and other countries competing on the world's stage all of whom in fact, do have National programs in their country.
In terms of our athletes, Woodside is off the view that it takes money to do things and until funding is provided for sports programs, The Bahamas would continue to do the bare minimum when competing on the world's stage.
Tune into the Podcast to hear more on this talented Coach's views on the urgent need for Bahamian National programs, the competition thus far, the athletes such as Devynne Charlton and the women's relay team who are still set to see competition, NACAC initiatives and also the unfortunate dilemma that exists with the brand new state of the art "Thomas Robinson Stadium" which is out of the reach of the same athletes it was donated to benefit due to the cost factor tied to use the stadium.
Tune in!
After an excellent performance by both men's and women's relay team at the World Juniors; at the end of competition, the women's team would head to the finals and the men's team would be recognized as the 9th fastest team and being included in the fastest 8th cut who would compete in the finals. Bahamas Athletics spoke with Team Bahamas' head coach Jason Edwards who gave us his take on both team's performances. "The women did a great job; there are a few things we can work on and make a few adjustments so when they run in the finals, they can run even faster," says Edwards. Coach now has to review the lineup and determine which athletes would be selected to do final relay duties; he has some consideration to make such as should he use heats reservist Danielle Gibson and also Devynne Charlton who has moved on to advance to the semi-finals in the women's 100m hurdles. Coach says they would certainly look at one of those two for the finals in the starting position as he thinks "it would give The Bahamas a tremendous boost and make a big difference in terms of what we can do in the finals."
With regards to the men's relay team who came up short just being edged out of the finals coming in 9th; according to Edwards, the team did exceptionally well overall. He further stated that there was a little mishap during the race but "those things you cannot predict, they made the best out of it." So as the championship continues, The Bahamas is set to see action in only one session per day on Saturday and Sunday. Despite not medaling as yet, Coach Edwards is still supportive of his team; "When you look at the performances here, what they have been doing all year and what they did recently, it is right on par with what they have been doing all year. No one came here and underperformed; everybody has run at their personal best times or right near that time," says a proud coach.
Whilst medaling puts "the icing on the cake," The Bahamas competing at these championships/ these "Junior Olympics" alone proves that The Bahamas is indeed among the "best of the best." It can be expected that anywhere the "best of the best" are competing, competition would certainly be extremely tough and competitive and as Edwards puts it, "as you know in track and field, things don't go backwards, they go forwards and everybody is improving every day." Coach was quick to add that "the athletes came to compete and once you have an athlete in a big meet who run right at their season's best or better, there is nothing much else, you can ask for." So the IAAF World Junior Championships 2014 Oregon would soon be history and in our opinion, Team Bahamas and coaches should be very proud; before he left us, we asked Coach to share his overall thoughts on Team Bahamas' performance. "It's about exposure and about more than getting medals. It is a 'curse and a gift' as whilst not medaling in some championships, a number of our kids have been offered scholarships to the USA." The thankful coach continued, "Sometimes you don't get the medal but you get the $150,000.00 scholarship and later on in life, you look at the big picture and that's what it is all about!"
Bahamas Athletics thanks Coach Jason Edwards for his contributions to Team Bahamas and we wish all the best to the members of Team Bahamas who are still to compete.
Its relay time for Team Bahamas. During the afternoon session of day 5 Team Bahamas will run in the heats of the 4x100 meter relays. Bahamas Athletics was able to take a photo of our men and ladies before they went in the warm up area. Both teams was in a great mood and ready to take on the world.
Making up our ladies team is 1: Carmeisha Cox 2: Jenae Ambrose 3: Brianne Bethel 4: Keianna Albury. The reserve is Danielle Gibson.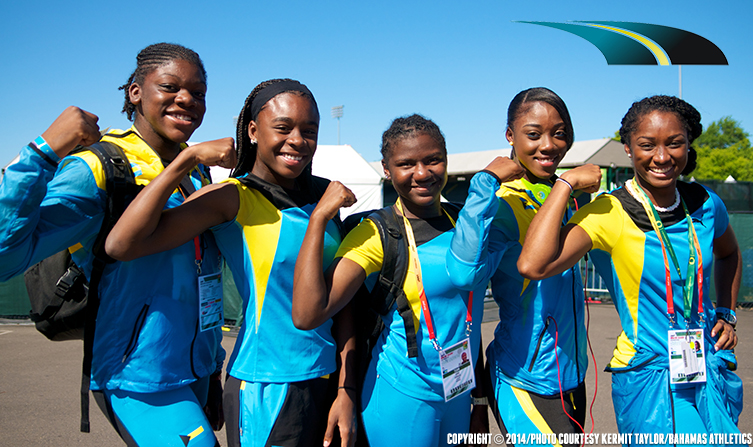 For the men 1: Keanu Pennerman 2: Cliff Reisas 3: Deedro Clarke 4: Javan Martin. Ian Kerr is the reserve.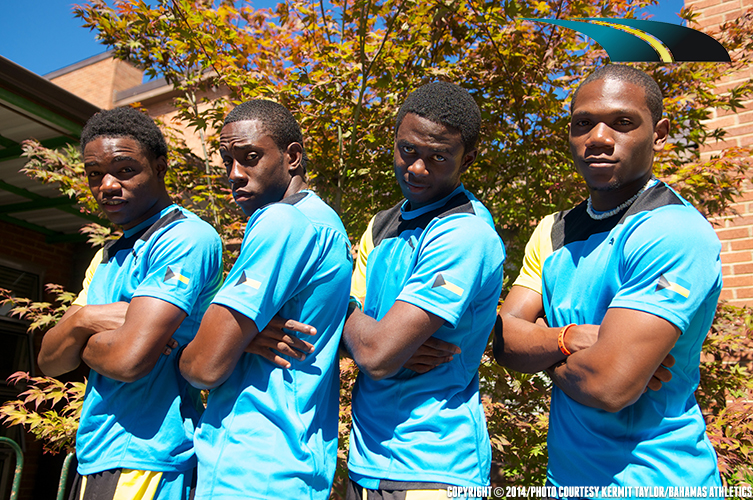 According to Team Bahamas' relay coordinator, Fritz Grant, the mood of the team is 'loose, focused, ready to go and run extremely fast and try to advance in the finals tomorrow; "Team Bahamas looking extremely good," boasts a confident coach.
The Bahamas' relay teams for many years have been a "force to reckon with" and this team who is set to compete against the best in the world, is also expected to follow in the footsteps of previous teams. Despite being set to compete in a very tough heat, Coach Grant still expects this team to perform very well and have a great chance of 'doing something special' and advancing. Many of us have watched relays and know too well that things can go very wrong during a race; Coach Grant says once the baton is passed correctly around the track and the athletes pay close attention to their zones and lanes; the race is anybody's to win. It is his hope that Team Bahamas does in fact execute thus allowing the race to be theirs.
Both relay team members despite being young, consist of veterans who are confident and ready to go says Grant. "We are looking forward to them stepping up and running to the best of their ability." According to Grant, both teams are set to do something special for The Bahamas and they are "ticking like a clock and excited to see how fast they are going to run; they are getting along very well and the chemistry is there." So if it is only for the confidence that Grant has in the members of his relay team, the team should in fact, perform exceptionally well. "I have so much confidence in them."
Grant who doubles as the team Chaplain, left the group with the scripture verse, "I can do all things through Christ who strengthens me." Coach encourages the team to always put their trust in God as "once we look to Him and they put Him first, the rest is history."
Good luck Team Bahamas!
Bahamas Athletics caught up with the talented Devynne Charlton after just competing in the women's 100 meter hurdles. Running a personal best of 13.56 and qualifying for the semi-finals, was not easy for Devynne particularly as she ran out of lane 8, which is the "worst nightmare" according to Devynne; "I did not get off to a strong start and I had to work even harder." After her impressive performance, Devynne certainly demonstrated to all how to make the best out of a bad situation.
Devynne who just completed her indoor season now competes at World Juniors for the last time as this is her last championship competing as a junior athlete. Devynne is now a freshman at Purdue University; she tells us that attending college for the first time was challenging and she got off to a rocky start as she puts it. "It was my first indoor season, never done it before; it was a huge adjustment then going back to running outdoor after indoor season was another big change for me." Like most persons when things don't always go as planned, we lose some confidence and Devynne was no different; "I lost a lot of confidence so that was the main thing; I had to re-build my confidence up."
With her impressive performance today, it is obvious that Devynne has regrouped and from all appearances is adjusting quite well and seems to have a bright future as a senior athlete. We believe also contributing to Devynne's success today is the fact that she not only had the support of her caches and teammates but she had the support of her entire family. Also attending World Juniors are her parents and sister; when asked how she felt to be surrounded by family, proud Devynne said, "I am one of the few athletes who get the opportunity to travel with my entire family and it means a lot to have family support. As a matter of fact, Devynne has also been very privileged to have as her coach for many years, her very own dad - David Charlton. She says that her dad has been her coach from the tender age of seven and working with him means a lot to her; "having him there with me helps because knowing that I have a coach who has my best interest at heart is good."
We expect great things from Devynne as she continues in college and this, despite the minus ten degree temperatures she told us she is faced with at times; nonetheless, this promising athlete says academically she loves it and track wise, "I have a lot more to work on and have plenty of time to do it so I am not discouraged." Bahamas Athletics congratulates Devynne Charlton on her performance today and wishes her continued success in the finals of the IAAF World Junior Championships.
Page 1 of 148