News
In correlation with the month of October being observed as Cancer awareness month, Fast Track Management has once again committed to the community of Grand Bahama to host its fourth annual Relay for Cancer and Road Race. This year's event will be held in conjunction with the Grand Bahama Cancer Association on Saturday, October 10th. The warm-up session is scheduled to start at 6:00am, the 5K fun run/walk will begin at 6:45am, and the 4x1mile relay will begin at 7:15am.
The participants and spectators will be rewarded with a different experience this year as the event has been relocated from its home, the Pelican Bay Hotel, to Taino Beach grounds. The continuous growth of the event was one of the reasons for the change in the venue. The participants increased tremendously over the years; 70 registered the first year, over 140 registered the second year, and over 450 registered the third year. Ravanno Ferguson, Founder of Fast Track Management and the local track and field club - Fast Track, said that the management team saw the relocation of Relay for Cancer as an opportunity for improvement. Taino Beach provides an abundance of space to facilitate the anticipated increase in athletes and spectators this year. Fast Track events also provides family-orientated atmospheres and hosting the event at Taino Beach achieves this goal.
Fast Track Management has committed to host Relay for Cancer each year because cancer affects so many of our loved ones. They are lending support to our community while ensuring that their corporate presence is felt simultaneously. An invitation is extended to all locals and visitors to attend the fourth annual Relay for Cancer on October 10th as the event is expected to be a memorable experience as usual. Fast Track Management encourages everyone to register today and decide 'who they will relay for' as we all continue to fight for the cure for cancer.
When one reads the athletic accomplishments of this decorated athlete, one would think it belongs to a veteran track and fielder but if you look closer, you would be surprised to learn that the wonderful accomplishments belongs to someone who is only 19 years of age! Devynne is in her third year at Purdue University and since her short time at the University, she has been phenomenally successful and has certainly made a name for herself; among other accomplishments, Devynne has broken six school records!
For those accomplishments in track and field, Purdue University has named Devynne one of two Athletes of the Year for the 2014 – 2015 school year. (The other male Awardee is in Diving). According to Purdue University records, Charlton along with another athlete are only the second set of underclassmen (freshman/sophomore) to win the Purdue Athlete of the Year Awards in the same year.
Devynne is also one of seven athletes presented with the University's "Durham Brothers Leadership Award" which honors underclassmen who have exhibited outstanding leadership both on and off the field through positive attitude, strong work ethic and overall commitment excellence.
Some of Charlton's University's track accomplishments include:-
• Breaking the Indoors 60-meter dash and 60-meter hurdles school records.
• Breaking the Outdoors 100m dash school record which had stood for 29 years.
• Won the program's first ever Big Ten Championship in the outdoors 100m
• Breaking the 100m hurdles school record.
• A member of the 4x100m relay team that shattered the school record.
• A member of the University's record breaking Shuttle Hurdle relay team
• Set the school record in the indoor 200m dash with a time of 24.45 seconds.
• First 100m hurdles First Team All-American since women began competing in NCAA-sponsored championships in 1983, and just the third ever.
• Her efforts with the 4x100m relay team earned the group the program's first-ever appearance in a national championship final and First Team All-America honors in the event for the first time in school history.
• Winning two Big Ten titles
• Earning three All-America honors.
• Purdue Women's Track "Outstanding Athlete of the Year" for two consecutive years
Prior to her attending Purdue University, Charlton also made a name for herself in The Bahamas having medaled at Carifta Games, Jr. CAC and Jr. PanAm Championships. She was also named All-Bahamian Scholar Award winner from 2011 to 2013. Charlton also competed for The Bahamas at the 2012 & 2014 IAAF World Junior Championships and 2013 World Youth Championships. Devynne is the National Co-Record Holder in the 100m hurdles. Devynne made her senior debut this summer representing the Bahamas at the Pan Am Senior Championships, NACAC Senior Championships and was the youngest member of the Bahamas World Championships Team.
Charlton is the daughter of David and Laura Charlton. Dad "Dave" and high school coach was recently inducted in the Howard University's Hall of Fame for his accomplishments in track while at the University. Mom is a very successful business woman who along with her husband, also manage The Star Trackers Track & Field Club where Devynne got her start. Let us congratulate Purdue's University Female Athlete of the Year – Miss Devynne Charlton!
Continue to make Bahamians proud Devynne!
Homegoing service for Rev. Enoch Backford
Former Executive – Bahamas Olympic Association
To the family; to all the gathered friends of our departed brother; to my colleagues in the sporting movements of The Bahamas;
This is a day of sadness, where we have come to pay respects and bring condolences on the occasion of the passing of one of the distinguished leaders of our time in the field of sports.
Reverend Enoch Backford was certainly a leader in our community of sports. But he was also so much more. In fact, I was lucky enough to know him in the three major areas of his community involvement. I knew him in law enforcement; I knew him as a preacher and a man of God; and I knew him as an administrator in the Olympic Movement, which I now have the privilege to lead. He guarded the standards in all three of those areas of in his service and gave each of them the commitment and dignity that they deserved.
I served as an officer in the Immigration Department when Rev. Backford was Deputy Director. Like so many distinguished public servants, he came out of teaching profession and he brought that sort of discipline with him. In fact, we gave him the nickname 'six', because he threatened us all that if any Immigration Officer carried himself in undignified manner or behaving in any way unbecoming, he would take that officer's overtime earning privileges for six months. A total disaster for Immigration Officers that often made more in overtime pay than we made in salary. It was mostly a threat but he actually carried it out once, and no one ever made that mistake again...
As a man of God, the Reverend Backford that I knew proudly paraded his belief in God at ALL times. He was always willing to share his knowledge of religion and his experience of God. He would encourage all to be a part of the kingdom of God and to live in the embrace of God's goodness and grace.
In sports, I knew Reverend Enoch Backford as a fellow member of the Olympic Movement. In the sporting world, he competed and administered very honourably and serving with him on the executive at The Bahamas Olympic Association taught me lot about Olympic style administration. This has been of great benefit to me today in thus current post.
May his soul rest in peace.
Good evening church!!

I am delighted, on this sad occasion, to have been asked, to bring condolences on behalf of the Track and Field fraternity…..a body that Rev. Enoch Backford served faithfully…as President. I hasten to add…Track and Field Federation…for you see our departed brother also served for a long time…… as a Vice President and interim President of The Bahamas Olympic Association…now The Bahamas Olympic Committee.

Needless to say, I can tell you all that we are losing our stalwarts…one by one…but I stand on the shoulders of those Federation Presidents that paved the way….Rev. Backford was the 7th President of the BAAA and I have the distinct pleasure of being number 13 and 15…in that distinguished line. My task is to briefly reflect on his life of major contributions to nation building, through sports. …..with particular reference to Track and Field.

We are reminded of the words of Benjamin Disraeli who stated: "The secret of success in life is for a man to be ready for his opportunity when it comes".

I could tell you that Enoch Backford…referred to as "Nuckie"…by his contemporaries…and friends was from that generation, guided by the imperative of history…there was an urgency to build a nation, and certain individuals were being depended upon, to lead the way. Then I could tell you that he was expected to make his contribution to the development of the sports since he was an outstanding athlete in his own right…

Among his many Track and Field accomplishments of note is his winning the 100yard dash at the Coronation Games in 1953. From 1953-1956 he was undefeated in the 100yards at High School Meets...but his crowning glory no doubt was being a member of the now famous quartet… of Tom 'the Bird' Grant, Oscar Francis and one Thomas Augustus Robinson…that put The Bahamas on the Track and Field map when they made history by winning the first international relay medal….a bronze medal…in the 4x100 relay at the 1957 West Indian Federation Games in Kingston, Jamaica. I have no doubt that they are now having a happy reunion and debating the relay lineup...with Gus Cooper as the coach and Bostwick as the team manager. That historic making performance set the expectation for The Bahamas as a relay power house and began a rivalry…which continues today.

Unlike many who just talk…and complain….and criticize…. history would show that, a young fully qualified teacher returned to The Bahamas, back in the 1960's, and immediately got involved in the running of both the Bahamas Olympic Committee and the Bahamas Amateur Athletic Association. So intense was his involvement that he ultimately became the seventh President of the BAAA and was team manager for a number of delegations, including Olympic Teams…Commonwealth Games Teams…Pan Am Games Teams…he also oversaw The Bahamas' first time participation in the Senior CAC Championships in 1971...all at a time when the leaders often had to put their hands into their own pockets, to assist in funding national the teams.

Then….I can tell you that Rev. Enoch was a strict disciplinarian…and under his watch as BAAA President, a number of athletes…including yours truly…and even officials…. were suspended from competition and national teams.

He believed in the chain of command…and his strict discipline brought him in direct conflict with his lifelong friend Sir Arlington Butler….and am sure that it was one of the more painful experiences of his life…when friends found themselves on different sides…and were taken to court….to resolve the BOA conflict a few years ago.

It was the playwright Shakespeare who reminded us that life…is akin to that of an actor…we make our entrance, play our various roles and then make our exit.

Rev. Enoch Backford has lived a full life….and has played his many roles…son…husband…father…uncle…grandfather…god-father…educator…senior civil servant…clerk of parliament….registrar of elections….athlete….sports administrator….Reverend gentleman….friend and mentor…to many..

There is so much…that all of us can learn from his life of involvement and dedication….he went about making his contributions…without fanfare.

The task is for others to share his other involvements….but the Bahamas Association of Athletic Associations is the richer ….the country is the richer…his family is the richer…for his contribution. We will miss his wise counsel…and are challenged to find a way to erect a lasting memento of his contributions…for he was indeed an unsung hero.

And so…condolences is extended to the Backford family on behalf of the BAAA family…inclusive of our BACO officials, The Bahamas Olympic Committee and indeed the sporting community at large... Do know that you are in our prayers during this difficult period. May his warrior soul rest in peace…and rise in glory.
After her stunning performances at the IAAF World Championships in Beijing, where she captured a silver medal in the 400m, and The Diamond League in Brussels where she won the gold, BTC sponsored star athlete Shaunae Miller was welcomed home by the BTC executive management team at the company headquarters. Ms. Miller has been a BTC Athlete since 2013 and stated that she is grateful for the impact the sponsorship has had on her career.
"Funding is a must to compete at the level I do," said Ms. Miller. "BTC helps my career by defraying costs and the exposure I am given throughout the Bahamas. When my photo is placed on the phone cards, the posters, the billboards and the commercials, it makes me proud to be a BTC athlete; it feels good to be associated with a winning brand. BTC is always in my corner and I am proud to say BTC keeps me connected to the World."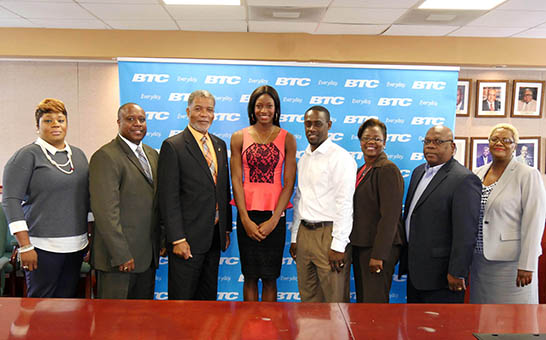 (l-r) Eldri Ferguson-Mackey, VP Marketing; Alban Smith, Chief Information Officer; Leon Williams, CEO; Shaunae Miller, BTC Athlete; Carlyle Roberts, Vice President of Enterprise and Strategic Solutions; Janet Brown, Chief Marketing Officer; Naaman Ellis, Chief Network Officer, and Valerie Wallace, VP of Human Resources.
Well Done
Written by Winston T. Marshall
Monday, 07 September 2015 15:10
The setting of the funeral service was lovely...in historic St Agnes Church, where the deceased Livingston Bostwick had attended all his life.
In what was vintage Archdeacon I Ranfurly Brown...he took his text from St Matthew's Gospel...
The story of a rich man, travelling to a far country...left his servants in charge of various tasks.
Upon his return he gathered then together to give an account of their stewardship.
The first excelled...and the master simply said "well done".
The second did good and received his well done.
The third hid his talent...and found excuses..since he had done nothing.
It was taken from him and he wad banished.
So shall it be at the day of reckoning.
The eulogy focussed on using one's talents..to build a society...and a nation.
Bostwick was such an unsung hl hero and nation-builder who did his part ....to receive his earned well done.
More people must do more with their talents...and stop complaining and gossiping
The rector, Archdeacon Brown received a well pronounced round of applause....for his timely and relevant sermon.
Page 1 of 187