News
Bahamian track star Chris Brown competed in the recent World Class (WeltKlasse-Zurich) Games held at the Letzigrund Stadium in Zurich, Switzerland, August 28, 2014. Cheering him on were H.E. Rhoda M. Jackson, Bahamas Ambassador to the United Nations Office in Geneva, and Ms. Michelle Deagoumois, Bahamas Honorary Consul in Zurich. He placed fifth in his 400 metres event.
Prior to the meet in Zurich, Mr. Brown took time out to share his experience and provide advice to local children, 7 to 15 years, participating in a Swiss athletic training programme with the stars called "Youth Training with World Class."
Photo: (L-R)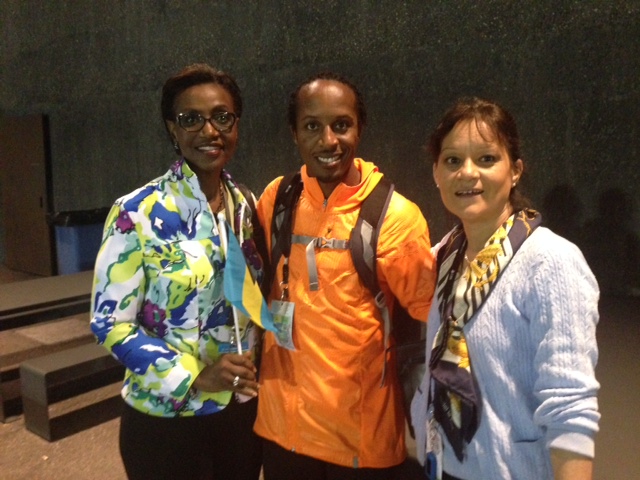 Ambassador Rhoda M. Jackson, Chris Brown, and Michelle Deagoumois, Bahamas Honorary Consul, Zurich.
In reflecting on his long life of major contribution to nation building, we are reminded of the words of Benjamin Disraeli who stated: "The secret of success in life is for a man to be ready for his opportunity when it comes.."
Harold Munnings was of that generation, guided by the imperative of history....there was an urgency to build a nation and certain persons were being depended upon to lead the way.
He was expected to make his contribution to development of the engineering profession and went on to become the first indigenous Director of Works, along with his friend Calvin Cooper Sr.
Then it was his call to become a senior civil servant, as Permanent Secretary in the Ministry of Works.
When the country was set to go independent he was named as the coordinator for the Independence Celebrations.
Unlike many who just talk, history would show that, a young fully qualified engineer returned to The Bahamas in the 1950's and immediately got involved in the formation of both The Bahamas Olympic Association and The Bahamas Amateur Athletic Association.
So intense was his involvement that he ultimately became the third President of BAAA and was team manager for a number of delegations at a time when leaders had to put their hands in their own pockets, to assist in funding the teams.
It was most appropriate that, when the BAAA celebrated sixty years of existence, back in 2012, Mr. Harold Munnings was honored for his contribution, as we highlighted the fact that he was one of those individuals, upon whose shoulders we presently stand.
For many of us, we aware of the many joys of seeing our beloved sport of Track and Field grow over the years but, the IAAF World Championships in Edmonton, Canada in 2001 was a particularly enjoyable one for our departed friend, for on that occasion, he was present to see the competition and to watch as his son Tim anchored the 4x400meter relay team, to a Gold Medal for The Bahamas.
What a celebration!!...some of his life's work had been realized and Tim went on to become the General Secretary of the BAAA and now the Director of Sports for The Bahamas.
It was the Playwright Shakespeare who reminded us that life is akin to an actor...we make our entrance, play our various roles and then make our exit.
Mr. Harold Munnings has lived a full life ...and has played his many roles.
Condolences is extended to the Munnings family from the BAAA family.
May his Soul rest in peace...and rise in glory.
There is so much that goes on behind the scenes, that the writer thought to share a glimpse of a critical area involved in hosting, particularly when you have a significant number of teams attending and participating, and who require language assistance.
One obvious and logical place to look, is the various native language speakers communities combined with the various schools and language departments, at the numerous colleges and universities.
In this regard, we are delighted to share with readers, some experiences and the level of preparedness by volunteers…..and in particular one of the attaches to Team Bahamas, Mara Camacho Zacarías, a recent graduate of the University of Vasco de Quiroga, (UVAQ) in Morelia Mexico.
Apart from assisting our team, this individual was very visible in assisting the medical team, with communicating with athletes from all countries participating.
And finally, this individual showed diversity by doing interpretation during the congress held.
Quite a challenge and experience…..behind the scenes.
Introduction
The first Central American and Caribbean (CAC) Championship was celebrated on 1967, in Jalapa, Veracruz, México. Since then, the Central American and Caribbean Athletic Confederation (CACAC) assumed the responsibility to promote and develop the athletics (track and field athletics, road running, walking and cross country running) in the Central American and Caribbean region. As it is clearly and accurately expressed by the typography marked on its constitution.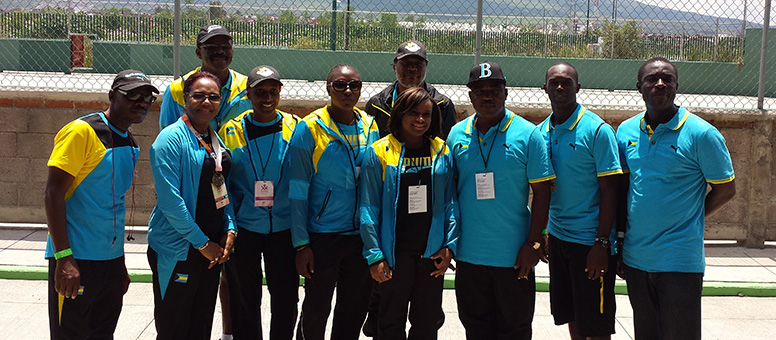 The CAC Jr. Championships
In his line of duty CACAC was awarded the role to hold the championships every two even years in the Junior/Youth categories.
A special proof of this statue was the XX Central American and Caribbean Junior Championship under 18 and under 20 categories, celebrated in Morelia, México 2014; event in which I was proudly involved.
Selection and role of volunteers
As part of the organizing committee and integrating the department of international promotion at IMDE (Instituto Municipal de Cultura Física y Deporte) in collaboration with CONADE (Comisión Nacional del Deporte) I was given the position as translators organizer.
Main Function: Provide translation and simultaneous interpretation to athletes, officials, judges and general audience members of the 38 different member nations that took part in the championship. And assist the delegations in the diverse areas : Airports, Hotels, General Transportation, Press and Media, Stadium, Dining room, Doping, Medical assistance, Congresses, Call rooms and Award zone.
My experience and what was learnt
My name is Mara Camacho Zacarías, and I worked as a volunteer during the track and field junior championship that my natal city hosted. I had learned the ropes of this position one year ago; when in 2013 I participated at the 24th Central American and Caribbean Athletics Senior Championship. However, no lived experience is similar to another.
From 4 to 6 July, the well-known pink stone city was graced to receive a world-class athletics joint. Days of bright sun but with sudden cloudiness and storms did not shoot down tempers of the warm and determined athletes. El "Complejo Deportivo Bicentenario" the stadium where the events took place, received athletes who refuse to lose.
Personally the championship left me a very satisfying experience because I got to know the previous process that an athlete has to complete to enter the field or track. I also learned technical information and processes that coaches and delegates make ​​to subscribe their athletes in an event, or when they make appeals, even I was able to learn a little of the process of doping and its consequences of being positive, without discarding what I learned about the vital function of CACAC, its vision and commitment.
The competition days went so fast. Notwithstanding I had the opportunity to meet participants closely. I met the human person more than athlete, delegate or officer. I met wonderful people I call today friends, paisanos and future colleagues. I would like to confer the Bahamas Delegation a special place in my heart and memory. "Working" with this team was a pleasure. Rediscover my city and show to you our patrimony by walking through our main avenues was an enjoyable mission. Hope it has been in that way for you too.
I witnessed the event so closely, that even I got to suffer the pain, injuries and faints of the athletes after competing. At the same time I celebrated and rejoiced their achievements. Involving myself in this experience made me understand track and field. Not only because I learned technical concepts but because I realized that it takes an athlete months or years to compete on an event that lasts 10 seconds.
The sucesss of the championships
After observing the grandstands I realized that particularly athletics still need diffusion. Athletes want to be legendary and also aspire to rewrite the history or at least want to redefine their positions, we can let them do their jobs and we can focus on ours. To reach outstanding diffusion of athletics, its competitions and sports fields is now on hands of those who had the chance to experience it. Personally this experience motivated me to know more about this discipline, to do some research and spread the word between my relatives, friends, colleagues and college, not just to practice it for health, also to support, cheer up our athletes, watch the competitions, and boost the circle of people who are getting involved or interested in track and field.
Conclusion
To promote sport among the world requires the small contribution of society, as the various agencies of the Governments, organizations, federations, coaches, athletes, society and families. We are capable of doing it, because society teamwork is the fuel that allows people to attain uncommon results.
Beijing, China - In exactly one year the IAAF World Championships, Beijing 2015 will commence.
IAAF President Lamine Diack who is presently in China attending the Youth Olympic Games in Nanjing, flew into Beijing today to attend the 'One Year Countdown Ceremony'.
President Diack was joined by Wang Anshun, Mayor of the Beijing Municipal Government and Liu Peng, China's Minister of Sport Administration Bureau and President of the Chinese Olympic Committee, along with other distinguished national and city officials representing the member federation and local organising committee.
The IAAF delegation at the ceremony also included General Secretary Essar Gabriel.
A giant countdown clock was unveiled outside the National Stadium, better known as the world famous 'Bird's Nest' which hosted the 2008 Olympic Games. The stadium will be the venue for the nine-day championships from 22 to 30 August 2015.
Introduced at the public ceremony were the official Championships poster and mascot.
"China is the emerging super power of athletics," commented President Diack.
"For me, this is a source of satisfaction because I came myself to China in the 1970s to help China return to the IAAF Family. This happened in 1978 and, since then, the strength of athletics in this vast country of one billion people has steadily grown."
"The IAAF World Championships, Beijing 2015, will further inspire the youth of China and Asia to take part in Athletics. This will be the greatest legacy of these Championships."
The Minnesota State Hall of Fame Selection Committee has an-nounced that seven individuals have been selected for the school's Athletics Hall of Fame.

The committee also announced its "team" inductee and this year's service and philan-thropic award recipients.

The new Hall of Fame members in the student-athlete category include men's track & field stand-out Foster Dorsett (MSU 1972-76), women's soccer icon Amber Dusosky (MSU 1999-2003), football All-American Jeff Spann (MSU 1985-87) and former men's gymnastic great Bob Wuornos (MSU 1966-69, 1971-72).

Slated for induction in the builders category are former MSU men's cross country/track & field coach Mark Schuck and Don Amiot, who served as men's AD and Director of Athletics from 1988-2002.

Selected for induction in the "team" category is the men's basketball team from 1975-76.

The Jim Schaffer Service Award will be presented to Jason Beal and this year's MSU Athletics Philanthropic Award recipient is Radio Mankato.

The date for this year's induction is Friday, Oct. 3 with the formal induction ceremony taking place at the Hall of Fame Induction Dinner held in the MSU CSU Ballroom. The MSU football team hosts Southwest Minnesota State Saturday, Oct. 4 at 2:00 p.m. in the annual Homecoming Game and the inductees will be introduced at halftime.

Note: Biographies and photos of the inductees will be released the last week of September. Additional information regarding the Minnesota State Athletics Hall of Fame is available online at http://msumavericks.com/hof.aspx

It is with much regret that we report the passing of Mr. Harold Munnings Sr. A founding father of the BAAA and a former President.
Mr. Munnings was a major contributor...and supporter of the BAAA federation and sports in the country.
My his soul rest in peace.
Page 1 of 150