News
Monday, November 09, 2015: Mike Sands incumbent President of the Bahamas Association of Athletics Associations (BAAA), committed to the building of a stronger federation through the strengthening of relationships with all athletes, coaches, clubs, technical officials, affiliates and all stakeholders and the re-branding of the BAAA as he officially announced his intention to seek another term at the helm.
Sands made the announcement on Saturday (November 7th) during his One (1) BAAA team official launch in Nassau and Grand Bahama. During each launch, the team also outlined their plans for the next BAAA administration and unveiled the teams manifesto.
Among other things, the team plans to provide for an Athlete Liaison Officer to be in on-going communications with athletes, a greater emphasis on coaching education to be supported by merit-based incentives for coaches. Sands also outlined plans for the establishment of various committees that will ensure greater transparency along with focused attention to specific areas of the Federation.
"By comparison, we are offering the voters and all stakeholders the best option," Sands said. "These members are best suited for the job because they are competent and possess the skills along with experience, commitment and passion that will continually take the BAAA forward in a very progressive manner."
Sands is on a slate that includes the federations immediate past president Curt Hollingsworth, who is up for the post of vice president; Tabernacle Baptist Christian Academy principal Norris Bain, for second vice-president; Attorney Drumeco Archer, for general secretary, retired Family Island Administrator Stephanie Rahming -Taylor, for assistant general secretary; current BAAA treasurer Philippa Arnett- Willie, for treasurer, member of Bahamas Officials of Certified Officials (BACO) Laketah Charlton, for assistant treasurer, former senior director of communications IAAF World Relays Bianca Bethel- Sawyer, for public relations; BAAA former assistant general secretary Anya Dorsett, for special projects (Nassau); Bishop Michael Eldon School senior master and physical education teacher Wayne Smith, for special projects ( Family Islands) and BAAA technical director of 12 years Frank "Pancho" Rahming, for technical director.
"We are offering the members the option of a better, stronger experienced and committed team. We respectfully and humbly ask that you cast your vote for the One BAAA team at the general election on November 28, 2015," Sands said.
In response to WADA's Independent Commission report issued today, the IAAF President, Sebastian Coe, has taken the urgent step of seeking approval from his fellow IAAF Council Members to consider sanctions against the Russian Athletics Federation (ARAF). These sanctions could include provisional and full suspension and the removal of future IAAF events.
Commenting on the report, the IAAF President said: "The information in WADA's Independent Commissions Report is alarming. We need time to properly digest and understand the detailed findings included in the report. However, I have urged the Council to start the process of considering sanctions against ARAF. This step has not been taken lightly. Our athletes, partners and fans have my total assurance that where there are failures in our governance or our anti-doping programmes we will fix them. We will do whatever it takes to protect the clean athletes and rebuild trust in our sport. The IAAF will continue to offer the police authorities our full co-operation into their ongoing investigation.
IAAF - Member Federation suspension and other sanction process
- IAAF Council to decide whether to proceed with a potential sanctions' process against a Member Federation.
- The Member Federation is asked to respond to the allegations and proposed sanctions.
- IAAF Council to consider the Member Federation response as soon as possible and make a decision on next steps.
IAAF
If you were following track and field lately, one name you couldn't help but hearing is Bahamian 400 Hurdler, Jeffery Gibson.
Gibson has had a very successful and impressive 2015 and as a result of this, on most circuits, he is now being recognized as one of the athletes to watch. This talented 400 meter hurdler has recently picked up some hardware, one being Gold which he won at the Pan Am Games held in Edmonton, Canada the end of July and the other is a Bronze medal won a mere few weeks later at the 2015 World Championships in Beijing, China.
This talented and very intelligent young man has also performed exceptionally well in his collegiate career having set a new school record in the 400 meters for his University – Oral /Roberts University. Hard working Gibson did not always compete in the 400 meter hurdles, he initially started competing in the 400 meters however through discussions with his parents, it was decided that since he was already a 400 meter runner, he should try competing in the 400 meter hurdles instead.
As they say, the rest is history. Gibson would go on to perform extremely well, finishing his last year in university very impressively.
Jeffery has really grown since his senior year of college up to this year. "When I was in my college year in 2013, I was unsure of myself as a hurdler. I did not have much technique and I did not believe in myself as a hurdler; now I am at the level where I am confident of myself as a hurdler, I believe in myself."
Gibson would be the first to admit that he still needs more work as a hurdler but nonetheless, he is clearly in a much better position than he was before. As with any athlete, one of the most important person's in their life is the coach; Gibson proved that true. He is grateful to all of his coaches especially his coach George Williams out of Saint Augustine University where Gibson was allowed to train with some of the best world class hurdlers.
One would think that the work and training at that level would be very difficult for an athlete but not for this talented young hurdler who according to him, always worked hard no matter who his competitors are or the level of competition. "I am used to training hard and it made me stronger to get to the college level; in college, I was put through grueling training to get to this level and it made me stronger there to get to the post collegiate/pro level."
Gibson gives much of the gratitude to one of his previous coaches, Frederick Bastian whom he says really assisted him in building the base that he is today. "He helped me to be at the level I am today," says Gibson who later moved to North Carolina in 2014 in order to work with another coach, George Williams.
"In 2014, I won Bronze at the Commonwealth Games and I began settling into the program and finding confidence in myself; then came the Bronze at the 2015 World Championships. Gibson's performance excelled and he noticed his improvements when he began to out-perform one of the world's best hurdler; "When I kind of realized what was happening, I realized a change was coming and I should work hard and stay focused. I ended up beating him the and at the Pan Am Games in Toronto winning the Gold.
One may ask, if Gibson saw himself accomplishing so much? "I did actually; I had set a goal for myself," says Gibson.
As he continue excelling especially his win at World Championships, Gibson started becoming a house hold name and doors began opening for him. Another change was lane change; Gibson recall having to compete continuously in what he terms "bad lanes" such as lane 7, 8 and 9, however, due to his great performances, he found himself being given better lane assignments. "As I started accomplishing more, I started getting the better lanes like 4, 5 and 6. They saw me as the premier athlete and the athlete to watch. It was very nice and I started to get appearance fee," says the proud athlete.
The memorable experience of competing at World Championships in Beijing, China would remain with Gibson for some time. Gibson says at the championships, he had great confidence in himself and also the team and he did not want to disappoint his coach. "I had great expectations and didn't want to falter. I was confident going into the heats but in the semi-finals, I was somewhat apprehensive and did not think it was possible but I did in fact make it to the finals and that was the hard part there."
Gibson ended up on the podium winning the Bronze. This was a very proud moment for him particularly the opportunity to see The Bahamas' flag raised high during the medal ceremony.
Whilst Gibson was extremely proud of that medal, he made a promise to himself that the next time he makes the podium he would not only see The Bahamas' flag being raised but he vows that he would also hear the Bahamian National Anthem being played!
So with the Olympics fast approaching, Gibson has to put in some extra work; "My goal for 2016, is to stay just as focused as 2015 and to work even harder and smarter."
Will the world be listening to The Bahamas' National Anthem at the medal ceremony for the Men's 400 meter hurdles at the 2016 Olympics? Gold is surely in sight!
WITH the Bahamas Association of Athletic Associations' annual general meeting and election of officers fast approaching, the United Purpose Group, headed by Rosemunde Carey, is working feverishly on becoming the new administration. The group officially launched their campaign on Thursday night at the Crab House where Carey introduced her slate of officers who will seek to be in charge of the governing body for track and field in the country for the next three years. The BAAA's​ AGM and elections will take place on November 28 and Carey said they would be out to replace incumbent Mike Sands and his current administration team.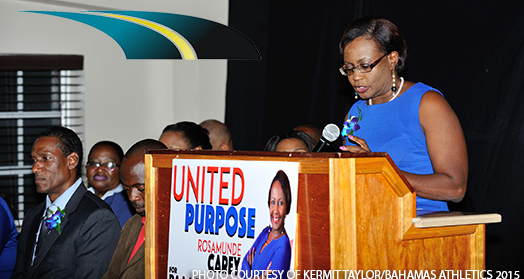 Carey and nine of her 10 officers were introduced to an audience that included IAAF councilwoman Pauline Davis-Thompson, Curtis Pride, president of the Coaches Association, and Harrison Petty, president of the Parents Association. After a highly spirited rendition of the national anthem by Antonio Rolle and the invocation by Greg Cash, Carey was called to the stage by public relations officer candidate Philip Carey and one by one, she invited the other members of her team to join her on stage. The list included Tonique Williams for first vice president, Troy McIntosh (now in Grand Bahama) for second vice president, Carl Oliver for general secretary, Mabeline Miller for assistant secretary general, Sharon Gardiner for treasurer, Mildred Adderley for assistant treasurer, Rupert Gardiner for statistician and Dexter Bodie for special projects.
Missing was Sandra Laing from Grand Bahama for special projects. Laing is currently preparing the team's visit to Grand Bahama on Saturday where they intend to present their election platform and accountability guide that they did on Thursday night. "I'm excited. I'm really excited that we have the team assembled, the best team possible, to win the next election and move the federation forward," said Carey, who is vying to become the first female president in the history of the BAAA. "It wasn't easy assembling this team. We went back and forth.
"We had some persons who offered and then when they realised that they had to be fully committed to the federation in order to get things done, they were more than committed to stepping forward to get the job done. We have a lot of people on this slate who have a heart and a passion, who are really saddened to see the stake that the federation." While the persons introduced will form the core of the executive team, if elected, Carey said they intend to commission a number of committees, including finance and fund-raising, competition, special projects, marketing and public relations, medical and anti-doping and legends, where they intend to engage a lot more persons to get the job done. Already, United Purpose has flooded social networks, especially Facebook where they have produced a video of each candidate where they have received a number of hits and over the next month, Carey said they intend to meet with as many persons as possible to share their vision for the sport.
Their mission statement: To provide and ensure effective leadership, good governance and efficient service to the Bahamas Association of Athletics Associations, built on a foundation of competency, transparency and integrity. This mission will be the stepping stone that transforms the BAAA into a federation capable of governing, operating and developing Bahamian athletics to its maximum potential. Vision statement: To unite and empower the Bahamian athletic family. To embrace their passion and utilise their talents so as to create a shift in the paradigm of Bahamian performance, focus on strategic development and maintain sustainable growth for Bahamian athletes. "People are really passionate. They want change. They need change and we are really confident that we will win the next election," Carey said.
In a key note speech delivered today (16) to the European Athletics Convention in Lausanne, IAAF President Sebastian Coe announced new advisory structures designed to assist the delivery of a fundamental programme of change to the sports global administration.

President Coe, who was joined by IOC President Thomas Bach, EA President Svein Arne Hansen and EOC President Patrick Hickey at the Mövenpick Hotel, confirmed to advise IAAF Council in future there would be 10 Commissions and 10 Special Advisory Groups, each with 10 members, who, mostly via video and teleconferencing, would aim to convene 10 times each year.

"Central to the process of reviewing and building new structures, I am today announcing widespread changes to the composition and function of IAAF Commissions for the approval of IAAF Council in November" said Seb Coe.

"These changes are designed to broaden the experience and ability available to our sport and make the IAAF's advisory bodies more efficient, more focused and more representative. They will be smaller groups with increased representation of women, younger age groups, coaches and former athletes and experts from outside athletics.

"These advisory bodies will make better use of technology to increase the level of dialogue between these advisors and the IAAF beyond the regular face-to-face meetings."

IAAF Commissions

"We are reviewing the IAAF Commissions to ensure that the IAAF Council gets the best possible advice and support moving forwards. Among the changes, four entirely new commissions are being created: Values, International Relations, Audit, Youth Engagement Commissions.

"There will be 10 Commissions, each with a maximum of 10 members, except the Athletes Commission which, being partially elected, is a special case:

Athletes Commission

Audit Commission (incorporates former IAAF Finance and Budget Commission)

Coaches Commission

Competition Commission

Development Commission

International Relations Commission

Legal Commission

Medical and Anti-doping Commission

Values Commission (Incorporating former School and Youth)

Youth Engagement Commission

"In addition, there will be two other special commissions: the existing Masters and Ethics Commissions, which are to be considered special cases as independent bodies. The Ethics Commission will be renamed the 'IAAF Independent Ethics Board' to ensure distinction between it and other IAAF Commissions."

IAAF Special Advisory Groups

"I am also announcing the creation of a number of IAAF Special Advisory Groups to help address specific areas of importance to the IAAF's administration and development of the sport. With these groups I'm looking for speed of decision, focusing on trends and innovation. Open minded, fast, flexible and with realistic ambition. What I'm hoping for across the Special Advisory Groups are 10 sustainable achievements each year."

Commercial and Marketing

Competition Calendar

Conflict Resolution

One-Day Meetings

Press and Media Operations

Road Running

Strategic Communications

Sustainable Development

Television and Digital

vWorld Athletics Series Renovation

"The IAAF will also continue with two steering boards covering commercial issues (with DENTSU and Eurovision respectively) composed of representatives of IAAF and the relevant organisations.

"During my official visit to the Balkans Athletics Congress I named the chair and some members of the One-Day Meetings group. The composition of the remaining 10 Special Advisory Groups will be announced by the time of the Council meeting in November.

"The reorganisation of the Commissions and specialist areas covered by the Special Advisory Groups should leave no one in any doubt about my priorities as president.

"Only if we successfully engage in this reorganisation will we be able to offer the best possible advice to IAAF Council and thereby build a robust, innovative and transparent organisation which is fit to deliver with its member federations, a modern, athlete-focused sport that is attractive and exciting to a young audience," concluded Seb Coe.

IAAF
Page 1 of 188