News
What a challenging day 2 was for the IAAF World Junior Championships and for Team Bahamas. The team awoke to heavy rain and temperature into the fifties. Once the championships got on the way, weather conditions did not change; actually the rain continued and at times, there were very heavy down pours. Despite the adverse weather conditions, the meet had to go on; it was clear, organizers were not going to allow the 'liquid sunshine' to interrupt this meeting of junior world champions.
Competing in the morning session of day 2 was Laquan Nairn in the men's long jump. Nairn gave it his all but after fighting the rain and chilly conditions, he would finish 13th over all with a distance of 7.29 meters.
Up next was Shaquania Dorsett in the women's 400 meters, the lone competitor for The Bahamas. Dorsett also fought the rain conditions but gave it her all. Dorsett ran in heat 5 lane 5 and would finish with a time of 55.53 seconds for 7th place. Great effort from the tiny Freeport native.
The final athlete to see action in the morning session was D'Mitry Charlton. He would compete in the men's 400 meter hurdles in heat 5 lane 4. After it was all said and done, Charlton would finish 5th with a time of 53.49 seconds. He too fought the rain; imagine having to jump the hurdles with the rain in your face and beating on your back!
For the afternoon session, the rain held up and the sun came out, but as faith would have it, temperatures dropped a little.
Kirk Lewis was the first athlete for Team Bahamas to take to the tracks. Lewis would compete in the semi-finals of the men's 110 meter hurdles. Lewis would run out of heat 3 lane 1. After a harshly fought event, Lewis would finish 7th with a time of 14.05 seconds.
Then came the women's 100 meter semi-finals. Keianna Albury was the only athlete advancing and did not seem to be bothered by the cool conditions and was ready to compete. Albury would run in heat 3 lane 7. Albury finished 3rd with a time 11.76 seconds.
Closing out Day 2 for Team Bahamas was Janeko Cartwright and Henri Delauze competing in the semi-finals of the men's 400 meters. Cartwright would be the first out running in heat 2 lane 1. Cartwright would finish 6th with a time of 47.88.
Next was Henri Delauze. He ran in heat 3 lane 7. Delauze would finish 7th with a time of 47.78. Neither athletes unfortunately, would advance to the finals.
Bahamas Athletics congratulates Team Bahamas after two days of competition and we look forward to day 3 at the IAAF 2014 World Junior Championships.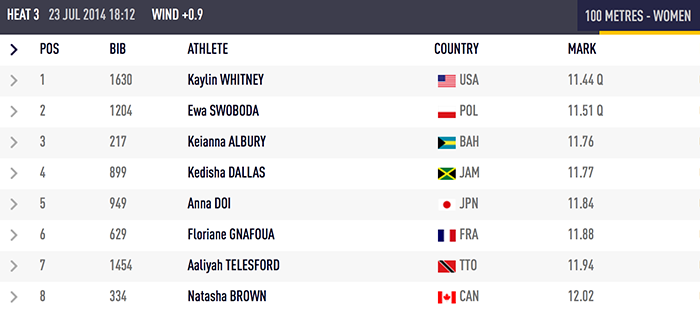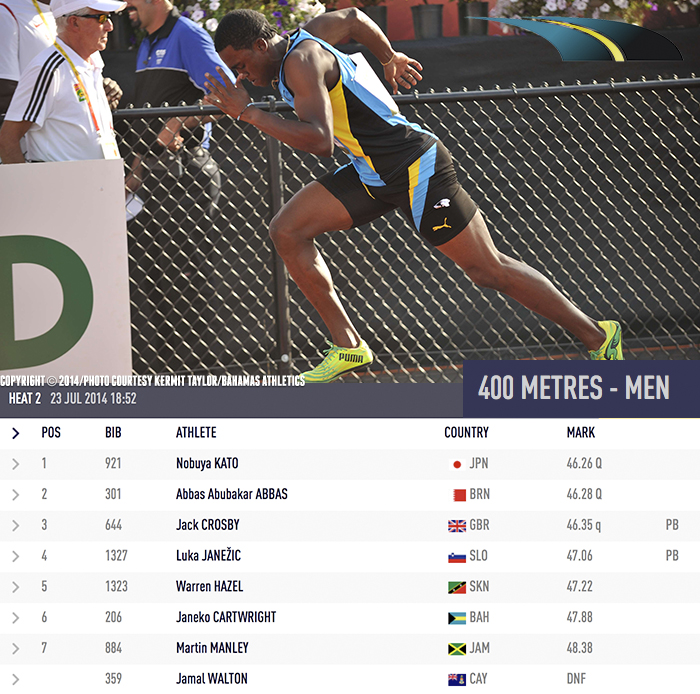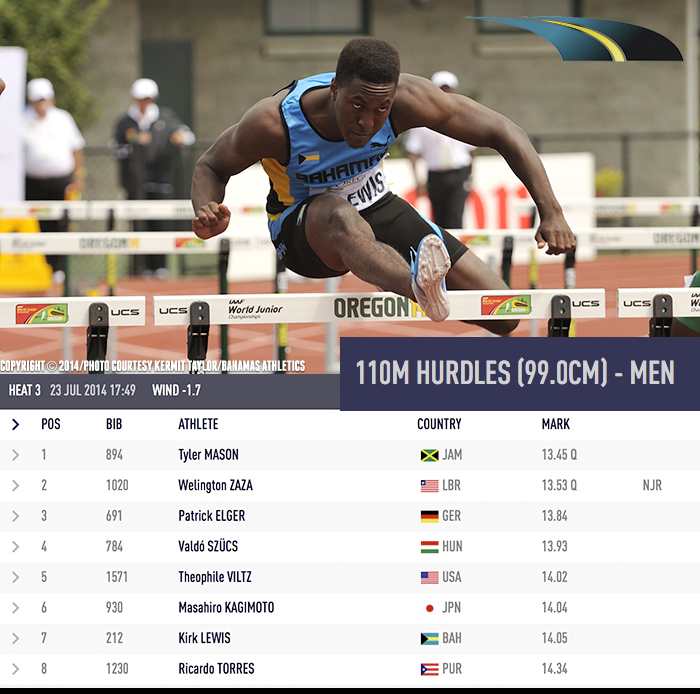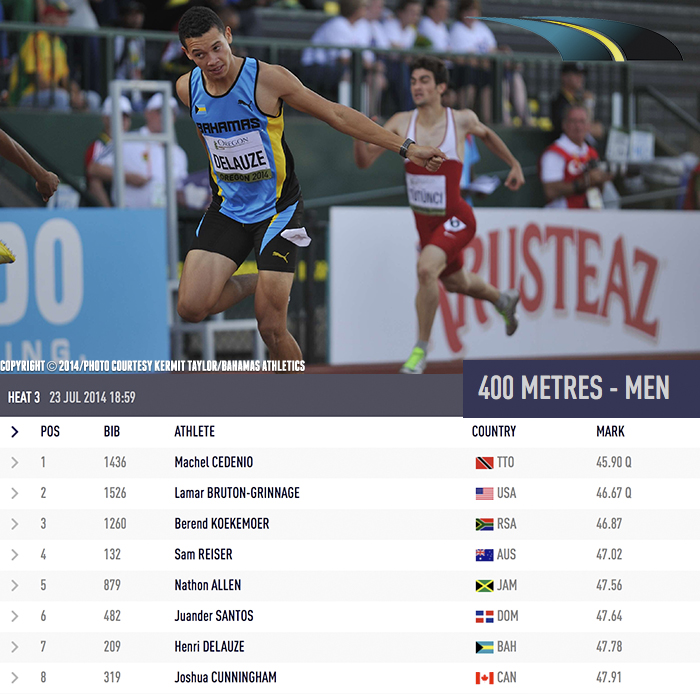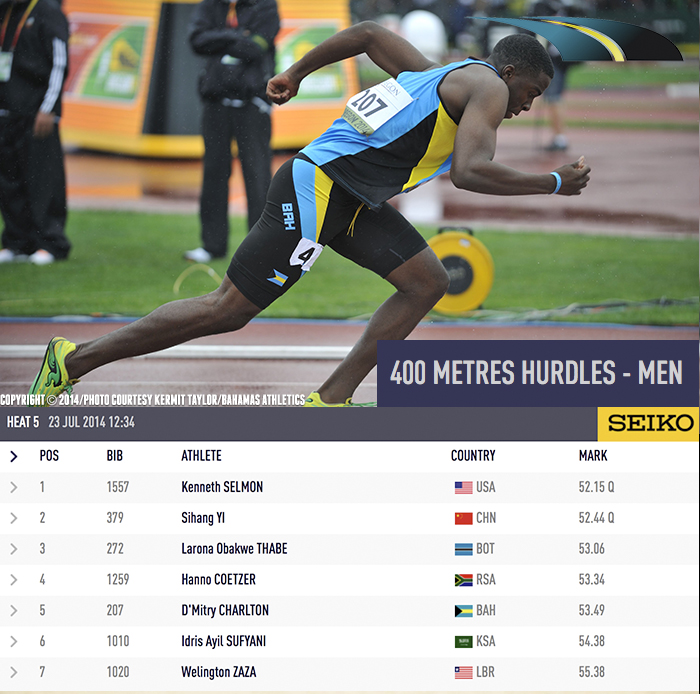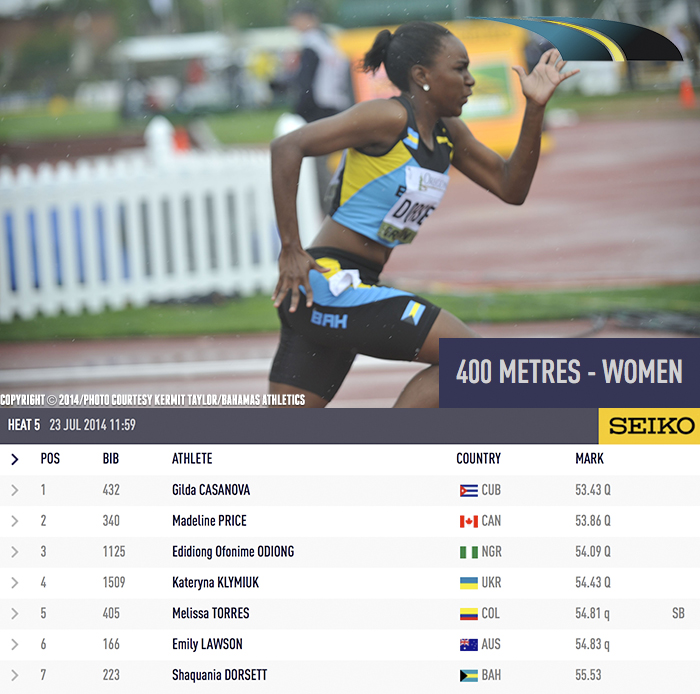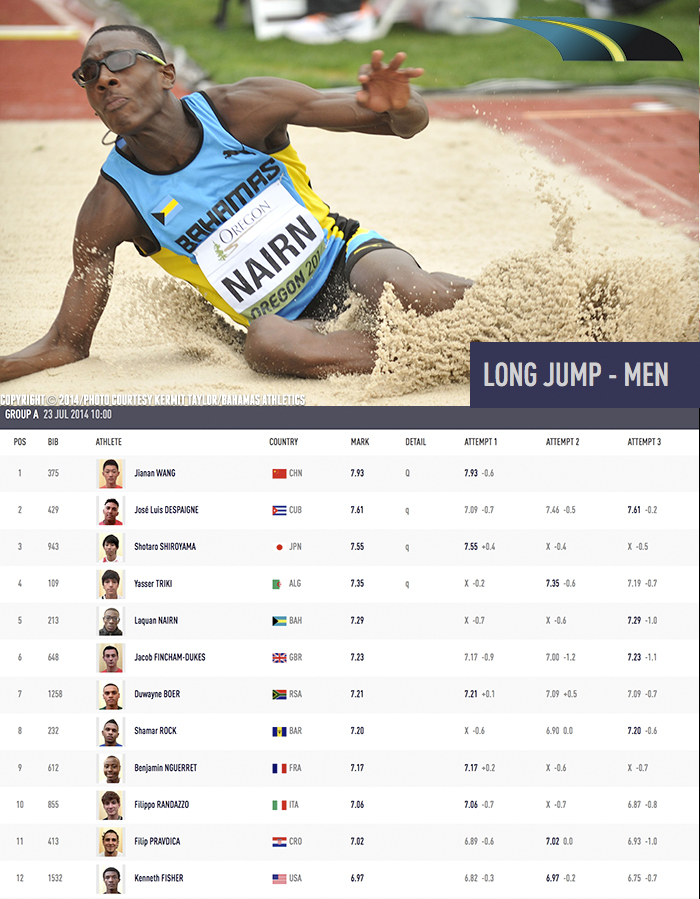 Despite not advancing to the finals, long jumper Laquan Nairn is appreciative of the opportunity and thanks God for "bringing him this far." Laquan who found himself competing with extremely talented jumpers, says that the competition was good and unfortunately, he could not get a good jump in. "I had two big jumps scratched; it just wasn't coming for me," says Nairn of his performance.
Nairn finished 13th overall however, only the top twelve advanced to the finals. Nairn who is competing at World Juniors for the first time, says he felt great competing and is just thankful for the opportunity of being at the championships. So this ends the competition for this very appreciative athlete; Bahamas Athletics inquired of Nairn his opinion on competing at this level and also his take from this experience. "Competing at the junior level is really tough and you have to be focused," the importance of being focused was exactly the main point coaches of Team Bahamas stressed to their athletes before they departed for Eugene.
In a team meeting held upon arrival in Oregon, Nairn was also asked to say a few words to his fellow athletes. His advice to them was to "go out there focused and with a lion heart and humble spirit and nothing can stop you." He continued, "Just be patient and don't be afraid of the competition." Athletes may not be afraid of the competition but obviously with competition being at such a high level, there must be something an athlete can take from the experience. According to Nairn, his take from the very invaluable experience particularly as a long jumper is to "never take no jumps for granted and go out there the first time and be patient. You must also go harder every time."
Bahamas Athletics thanks Laquan Nairn for his participation at the IAAF World Junior Championships Oregon 2014.
According to some, the hurdles are said to be "the most difficult and most technically challenging form of running because it involves great athletic ability, technical skill, speed and grace all which are necessary to clear the portable metal barriers called hurdles. With all of those skills intact and on what was supposed to be a nice cool day, 400 meter hurdler D'Mitry Charlton, running out of lane 4 heat 3 not only had to battle against the fierce competition, but he also had to battle the pouring rain and 50 degree temperature. When it was over and the runners had crossed the finish line, D'Mitry would be the 5th runner crossing the finish line clocking a time of 53.49; D'Mitry would not advance to the finals. Finishing 1st would be American Kenneth Selmon American with a time of 52.15.
Fresh from his race, D'Mitry spoke with Bahamas Athletics and understandably out of breath, he told us that he did not like his performance nor did he like the weather; according to Charlton, this was his first time ever competing in such weather conditions. Despite it all, D'Mitry was nonetheless, appreciative of the opportunity to compete amongst such talented world class individuals. "I was happy to see the world class athletes present and the great opportunity especially with all the coaches here," Charlton advised.
Charlton who would be attending college soon, advised that he also appreciated staying at the University of Oregon's campus, "I am excited to be here." Bahamas Athletics wishes D'Mitry well in his college career.
In what was expected to be an excellent performance by long jumper, Danielle Gibson; yesterday, she discovered that "things don't always go as planned" despite your best efforts. At the end of Danielle's challenging performance, Danielle left the field with a very disappointing finish.
Before she left the track, the understandably disappointed long jumper was kind enough to speak with Bahamas Athletics. "I am happy to have made it to this point in all honesty, during the entire season, it was not good and for me to be here; God has done something amazing for me," was Gibson's reply when asked her opinion on her performance. As World Junior Championship is one of the biggest stages for hard working junior athletes to display their athletic skills; this fact contributed even more to Danielle's disappointment. "I wish I had done much better than what I did and I let myself down especially on the world stage but I guess it was my time so hopefully, I would have a lot of improvement next year," she emotionally advised.
So it seems, moving forward, Danielle and her coach have some work to do in determining the issue with her performance but for now, as this was Danielle's only event at these championships, Danielle says she would now use the time to support her teammates in their respective events. Having had the opportunity to listen to Danielle motivate and inspire her teammates at a team meeting held Monday night, we can assure you that despite her performance, Danielle is quite capable of motivating and encouraging her teammates.
When asked what she would take away from this experience, this inspiring athlete's response was, "Even though I did as bad as I did, I am still proud of myself." She encourages all, when placed in a similar predicament, that they should not lose faith and "keep your head up, no matter what the outcome is." Bahamas Athletics would like to congratulate Danielle on making the team and as Donnie McClurkin sings "When you done all you can, you just stand," we encourage her to do just that and to hang in there, brush yourself off and come back bigger and better next year!
When the Bahamas Association of Athletics Association seeks funding for its athletes to travel to various championships like World Juniors; they are not only seeking funding for the talented athletes and coaches but many may not know, they are also seeking travel funding for persons who hold a very important job function – a physical therapist. Whilst their functions unfortunately may not be publicly recognized, their job or purpose on a team is just as important as any coach or athlete who are trying their best to medal. Their aim is to ensure that the athlete is well enough to medal have no nagging injuries.
Bahamas Athletics would like to our followers, Team Bahamas' physical therapist, Mr. Khalid Hanna. Please know that Hanna is no stranger to travelling with national teams; "behind the scene," he has helped many athletes to medal with his "miraculous" hands. When asked of the condition of World Juniors Team Bahamas, Hanna says that from what he has assessed, they are in very good condition and one of the best condition teams he has seen so far having about only one or two complaints of muscle soreness but no injuries so far. Hanna says his job can be easy once he is able to assess the team before they travel however many athletes tend to withhold that information in order to not interfere with their chances of qualifying for the team. "If they come forward and advise of any injuries before the trip, we can deal with it days before the event," acknowledges "strong man" Hanna.
Bahamas Athletics got an opportunity to observe Hanna working on a few athletes and from what we observed, the process should not be taken for granted. Hanna advised that the workout he was doing at that time was a "static stretch" which helps the muscle tissue to not be too tight so when the athlete is getting ready to start running or when you want to prevent them from being tight overall, you need static stretching as it prevents them from getting any injury.
Thank you Hanna for assisting many of our athletes with your therapy; we are certain through your work, you have aided many athletes to be "pull muscle free" thus causing them to complete their race and possibly even medal!
From the lovely and immaculate track at the University of Oregon, competition of day 1 has commenced at the IAAF World Junior Championships, Oregon 2014.
Bahamas Athletics caught up with Head Coach Edwards as they get set for competition; Edwards says he was excited about the team and expects good performances. According to Edwards, "Athletes are shaking out and getting rid of jet lag and ready to go." In its day 1 first meeting, Edwards told the athletes a very profound statement; he asked them not to pay attention to the statistics they are reading on other athletes as "stats are yesterday's news so don't worry about what you see printed there today. That is something that persons did in the past so don't focus on what you see." He continued, "The numbers do not mean that persons are going to come and perform that same way and the stats that you have can be improved/so don't focus on something that has happened in the past." Very good advice particularly as persons tend to only look at numbers and sometimes even intimated by those numbers.
So the Bahamas' 21 member team are very much excited about competing on day 1 which begins with 2 sessions; one morning session and an afternoon session. A number of our athletes are set to compete today in the 110 hurdles, 100 meters and long jump. Set to see competition are: Xavier Coakley, Kirk Lewis, Cliff Resis, Keannue Pennerman, Jameico Clarke, Henry Delauze, Brianne Bethell, Keanna Albury and Danielle Gibson.
According to Edwards, the athletes are really enthused, focused and are all who want to take their talent to another level. "Overall, I feel pretty good. People are looking for superstars but this team has depth and is high quality," says a very proud coach. "We have a chance to do great things."
Watch the video for full details of today's events.
Page 1 of 146