Carl Oliver, a former athlete who has represented the Bahamas at both the Olympics and World Championship, unveiled his plans to run for top leadership position in the next 2011 BAAA general election.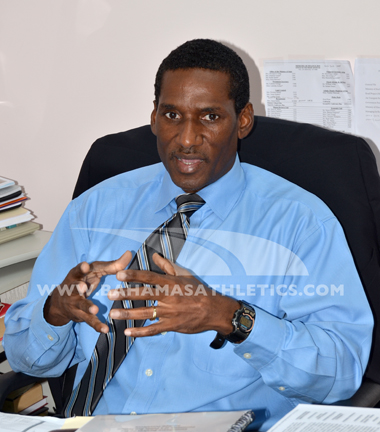 Oliver's motivation for running for top office for the BAAAs stems from "the sharing of some of his teammates who are still competing in track and field."  He noted that "the disappointments, the anger they feel are as though this administration is not assisting them at all."
"It moved from the level of when Mr. Desmond Bannister (past BAAA president) was there. Having this friendly relationship with the athletes, it's almost broken; it's almost a level of acute distrust.  The athletes do not trust the administration and the administration cannot trust the athletes, we cannot go forward with that" he emphasized.
"Right now the BAAAs needs new leadership, new ideas, and in terms of running for presidency and Iram Lewis as vice president, there are a number of issues in discussion" stated Oliver, former three year NAIA (National Association of Intercollegiate Athletics) track and field athlete at University of Wisconsin-Parkside.
"The idea is not to push aside the persons who have the institutional knowledge of running the association, but to use them for assistance and guidance and moving the association (the BAAA federation) along" he said.
Oliver, a native track athlete from Mastic Point, Andros, and graduate from North Andros High mentioned that he along with Lewis are still in the process of putting a team together."   "I do not want to go into any details for that" he said, "but we are still discussing it."
"In terms of some of the issues" Oliver noted that "we (prospective BAAA executives) need to address (a) the development of our athletes, especially in the Family Islands (b) a better and a closer relationship with the coaches and, (c) having an ear for their voice." (See next issue: Oliver Attack on BAAAs Constitution.)
With regards to a closer relationship with the coaches, Oliver noted that "from speaking with them…I don't think that's what happening right now. Because it appears as if only a few coaches are given the opportunity to excel, or to acquire a higher level of certification in coaching, that cannot be."
In observing the past and present choice of athletes, he mentioned "One of the things is that, in terms of Family Island athletes versus New Providence athletes, you have to look at New Providence athletes and the ones that are in the public schools. Back in the day, a lot of the student athletes that represented The Bahamas at the Carifta Games or even at international track meets, World Championships, or Olympics, a lot of these athletes were from public schools."
However, according to Oliver, the UWP graduate noted that "… it appears as though; there has been a change in (public versus private school athletes)." "Now," he stated, "it seems as if most of the athletes are from private schools. Therefore, the issue that we need to address is, probably, the cost."
Focusing on cost, coaches and track and field associations, Oliver said "you find that a lot of coaches are charging a fee for their service.  While there is nothing wrong with that" he underscored, "at the same time, you cannot (charge a fee) because the public school athletes do not have the funds and, we can't just push them aside. We have to bring them in and seek assistance from corporate Bahamas and bring these student athletes along."
"This is what we need to do in the Family Islands, try to acquire some sponsorship to provide and to give the Family Island coaches the support that they need, provide them with new and necessary equipment to develop their athletes."
Further, Oliver mentioned that "it all depends (on the need).  Most of the public schools allegedly do not have coaches that have experience in athletics, and probably have P.E. (Physical Education) teachers.  Subsequently now you have athletes who want to excel in athletics; however, they will have to search for coaches who have thorough experience in field events, or the running events, which means that a lot of them will have to leave the confinements of the school or the coaching there."
"In most cases" Oliver continued, "you find the coaches in the school are probably into basketball or some other sports, not athletics.  Therefore, athletes have to venture out and find a coach who is willing to work with them, and assist them in bringing out that running man, or jumping woman in them."
The prospective BAAA president, Carl Oliver said "I believe that Coaches have to be certified because it gives them a level of authority, that I can coach these athletes and I know what these athletes need.  I know what genuses of workout these athletes require to get them from point A to Point B, in order to take them to another level as good performing athletes from the junior level and conceivably to being a great athlete at college level."
"It goes back to saying yes; an International Association of Athletics Federations (IAAF) Certification or the United States (U.S.) Certification is good to have.   That is what our Bahamian coaches have, however, it needs to be upgraded than just Basic Level I"   said Oliver, Carifta try-out who made his debut of athletic skills during his school tenure in Wisconsin of the United States.
It was not until Oliver decided to walk onto an NAIA track team at a University in Wisconsin that his track athletic career began. With little funds to continue his schooling, Oliver's decision proved hopeful and, as a result he received a scholarship to run for the University of Wisconsin- Parkside for three years.  During his attendance and athletic stardom at the University, Oliver had no attachments with the BAAAs or athletes until his final year in 1994.   It was also in that year (1994), Oliver's final year that he ran in the NAIA Nationals and received third place with a record of 46:08 in the 400 Meters.   Additionally, within the same year, Oliver was named to the Commonwealth Games team, which was held in British Columbia.  From there Oliver has been involved with Track and Field and the BAAAs.
Written By: Brent Kemp
Last Updated ( Monday, 21 November 2011 12:24 )